Employee Engagement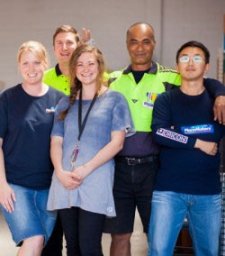 Employee engagement is not just about staff satisfaction and experience, but how emotionally committed your employees are to your company's vision and goals. A passionate employee is one who will go the extra mile, feel part of the bigger purpose and tell everyone they know how much they love their job!
Having a successful Corporate Social Responsibility programme which includes corporate volunteering leads to greater employee engagement: retention rates and productivity increases when your people are motivated and energised. Providing a paid volunteer day (or 2 or 3 days) to connect with the community is a great way of doing this.
Ryan Scott of Causecast on employee engagement and retention:
"Study after study shows that a majority of employees - especially Millennials - consider a company's commitment to the community when making a job decision, and those who participate in workplace volunteer activities are more likely to be proud, loyal and satisfied employees."
Right from the recruitment and interview stage, prospective employees will be asking what your CSR initiatives are and whether your company supports at least one day a year for staff to volunteer. Being a responsible employer your company will want to ensure your staff's well-being in their physical environment, and also their mental and emotional health. As well as the feel-good factor of giving time in a meaningful way for your individual employee, there is also the team building aspect of bonding outside of the office in a different environment. Volunteer days are a great opportunity for different business units to volunteer together and create networks across the company.
It makes good business sense too. Let's be honest, recruitment and training is costly as most HR/People Management specialists know, and motivating and retaining loyal staff is a key factor in a business' success.
"A highly engaged workforce means the difference between a company that outperforms its competitors and one that fails to grow." - Gallup
Demonstrating authentic CSR initiatives connects your company to the personal values of job seekers and employees alike - it draws them in to make them feel they are a good fit with your company's values and goals. Being able to report on your CSR and community engagement in your Annual Report is also a perfect opportunity to increase your company's brand awareness and customer loyalty.
How can we help?
Becoming a corporate member of Volunteering Auckland's EVP supports your company in running a successful Employee Volunteering Programme. This enables staff teams to choose a meaningful volunteer day and engage with the community outside of their office environment. When they return to work, they will be more motivated, enthusiastic and think more positively towards their employer, as well as engaging more with their team and colleagues.
"I think the paid volunteer day is something that everyone that works at [our company] really values. We understand that it is a privilege that not everyone gets" - Liz

"It was great having the team work together on something different than their everyday lives in the office. It gave them a sense of achievement and bonding." - Jemma
Membership Enquiry