Corporate Social Responsibility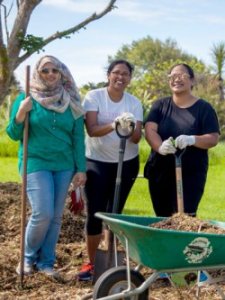 What is it?
Corporate Social Responsibility, sometimes referred to as Human Social Responsibility, is the impact companies have on their staff, wider community and society as a whole. This includes the economic, environmental and social impacts of their business.
Whether your company is a small local business or a large international corporation you may be looking to launch or develop your Corporate Social Responsibility (CSR) or Sustainability programme and engage more with your community. Strong businesses make for strong communities.
CSR or Sustainability initiatives might include partnering with non-profits which fit with your overall business focus, fundraising activities, workplace or pay-roll giving, sustainability and environmental programmes, providing goods in kind, sponsoring events, and of course corporate volunteering.
How does volunteering fit into CSR?
Offering your staff's time and talents to non-profits and engaging with your community is likely to be one of the areas you have the greatest impact in terms of outcomes for society as a whole. This positively impacts your staff through employee engagement as well as achieving results in the community which would not otherwise be possible.
Having a well-run Employee Volunteering Programme ensures that your staff are supported and resourced in their corporate volunteering. This ensures their volunteer day is worthwhile and has meaningful outcomes for all concerned.
Your staff could be providing hands-on help planting for a conservation project, supporting those who are vulnerable which broadens their worldview, or passing on their skills and expertise in a coaching session or workshop for a non-profit. View our corporate volunteering opportunities list to see more options.
Becoming a corporate member of Volunteering Auckland's EVP not only provides a specialised service matching teams to projects, but enables you to receive advice on developing your EV Programme and report on the outcomes in your annual CSR report, as well as share ideas with others in the CSR field through our network.
Membership Enquiry