Employee Volunteering Programme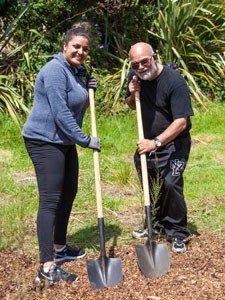 Volunteering Auckland's EVP is a bespoke matching service to connect corporate employee teams with community projects run by our non-profit members.
We help ensure your volunteering days are well organised and successful, as well as achieving your CSR objectives.
How it works
Step 1: Establish your goals for volunteering. Discuss with your staff team or company CSR group and incorporate company-wide themes and objectives.
Step 2 : Contact us to discuss your needs and agree the number of one-day projects you require for your annual membership. Once membership is settled (on payment of invoice) you will be provided full access to the online platform and be ready to set up new projects.
Step 3: Circulate the list of opportunities to your staff and promote volunteer days on your intranet or internal comms. Here are some tips on how to encourage staff to get involved.
Step 4: When a team has decided on an opportunity, you can initiate a new project through our online system. We coordinate and ensure that everything is set up for the day to give your staff a safe and meaningful volunteering experience.
Step 5: When your day is complete, circulate photos and stories of your team in action through your internal comms as well as via social media.
Step 6: End of year reporting on your volunteering activity is a breeze with our online platform. Download a complete record of all your projects including hours volunteered, number of staff involved and feedback from the team.
Get Started
Membership Enquiry