Our waterways are an important part of our landscape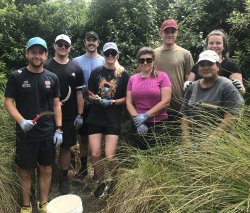 Are you someone who loves to give back to the environment and wants to get involved in local projects? Then Friends of Oakley Creek might be just the right organisation for you.
Te Auaunga Oakley Creek is a hidden gem in Auckland's central isthmus – a tranquil sanctuary amidst the hustle and bustle of the neighbouring motorways and surrounding suburbs. Almost two decades ago, local volunteers spearheaded the successful campaign to save it from the threat that a motorway might be built through it. In the years since, they have lovingly protected and restored it – monitoring water quality and bird life, controlling pest animals, weeding, and planting.
Devastatingly, the 2023 January 'Flood Friday' and February's Cyclone Gabrielle hit Te Auaunga Oakley Creek hard, and now – more than ever – the Friends of Oakley Creek are calling for volunteers to help restore this beautiful area back to its full potential.
Re-wind to 2004: Plans for the Waterview Connection Motorway are underway and are going to hugely affect Oakley Creek, as the new SH20 Western Ring Route motorway is expected to go through the natural habitat of the creek. This would have led to a loss of green space, more noise, and other devastating ecological impacts.
Wendy John and a group of friends decided they could not let this happen as the creek was – and still is – too valuable to let it degrade. They founded Friends of Oakley Creek, a not-for-profit organisation, dedicated to conserving and restoring this valuable waterway. While they successfully influenced the final plans for the motorway, the Friends of Oakley Creek have won more victories than just that one.
Two decades of volunteer passion & success
Because of the various victories they have achieved so far, Friends of Oakley Creek is often viewed as a leading organisation. Not only do the locals know and respect them, Auckland Council also sees them as a partner in a lot of projects – consulting them on a variety of subjects, such as water quality monitoring or to keep track of the plants growing in the catchment. A relationship like this is not only good, but also critical to the successful work of an organisation like Friends of Oakley Creek. Having the support of Council, and Local Boards, makes it easier to reach certain goals faster and more efficiently.
'Over the years, we have built a reputation for ourselves. People see us as an example of a successful urban conservation project,'
The Council hasn't been their only ally in the fight to conserve the creek. Local schools, churches and community groups get involved in the projects. Many volunteers have come to them through Volunteering Auckland, responding to their regular volunteer calls-to-action.
Volunteering Auckland has also partnered them with many companies seeking volunteer opportunities for teams of employees.
Other very important relationships involve the neighbours surrounding Oakley Creek. Since the whole catchment is of great importance, the people who live around the creek need to be involved. As such, they have a say in the various projects the Friends of Oakley Creek are undertaking. These relationships are reciprocated when Friends of Oakley Creek assist neighbour who need help in restoring their environment around the creek.
And the results of all this speak for themselves. The once little-known (except to locals) walkway, with its rather neglected and overgrown tracks and weed-infested vegetation, was transformed into one of Auckland's most popular environmental walks.
The main section looked after by Friends of Oakley Creek starts at the Waterview Heritage area, where the creek meets the harbour under the tangled junction of the north-western motorway, the Waterview Tunnel entrance/exit, and Great North Rd – and follows the meandering creek upstream until it reaches the Railway Heritage area near Pak'n'Save on New North Road.
The creek is flanked by a series of parks that form a greenway network spanning the isthmus from the Waitematā and almost through to the Manukau Harbour. 'You can walk or cycle most of the way from there to Onehunga and beyond, almost all off-road. It's fabulous!'
2023 storms
Sadly, Te Auaunga Oakley Creek was badly affected by the January floods, and by Cyclone Gabrielle in February.
'We all knew there was a storm coming – but nothing could have prepared us for the reality of just how bad it was going to be,' says Wendy. 'We hoped for the best – but the damage was extensive.'
Flood Friday's record-breaking deluge saw water rise high up the side of the lush gully which forms the main part of the walkway, and even spilling out across Great North Rd by Waterview Park.
'No-one we've talked to can remember having seen anything like this before. Even now you can see debris high overhead in the trees,' Wendy says.
'The forces of the water saw several of our bridges washed away or damaged. Together with this and the trees that came down, the damage to the creek, surrounding bush, and environment, was extensive.'
Cyclone Gabrielle brought less rain – but the already-waterlogged ground simply couldn't soak up any more water, creating more slips, and the high winds blew down more trees.
'We hoped for the best – but the damage was extensive. It was heartbreaking to see.
A positive outlook
'Out of adversity comes opportunity', Benjamin Franklin
Volunteers quickly began to clear debris, including fallen trees, and readying damaged areas for restoration and replanting. Their enthusiasm has turned the initial heartbreak into renewed hope and zeal.
Wendy would love to see more people joining the organisation. 'Having more volunteers doesn't only make the work lighter, it also helps build the morale of our regular volunteers. When more people volunteer, the regulars see more progress.'
Wendy says one of her favourite things about the Friends of Oakley Creek is that it is so multifaceted. 'As a volunteer, you can choose what you want to be involved in, since there are so many aspects to do with conserving a place like Oakley Creek.'
While the immediate focus over the past couple of months has been storm clean-up, there are multiple ways volunteers can become a part of this very special project – with activities including water quality, bird monitoring, animal pest control, planting and weeding.
For the creek to be restored and the water quality to be improved, it is very important that volunteers and locals get involved. To get involved click here.
If you are part of a company team interested in volunteering contact Volunteering Auckland.
Story by: Anne Cremers, Volunteering Auckland volunteer [Media Team], April 2023
Photo: KPMG on 15 Nov 2022 at the Waterview Heritage Area on Oakley Creek. The team are controlling Madeira Vine, and mulching young native