Volunteers with "Number 8 Wire" ingenuity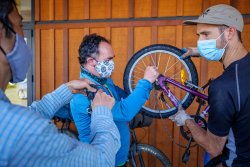 The number 8 wire, commonly used in rural fencing, has come to represent Kiwi ingenuity, resourcefulness and can-do attitude. Continuing this 'number 8 wire' mentality is Repair Café Aotearoa New Zealand (RCANZ). They are an organisation offering free pop-up events where locals can bring in their broken goods to be repaired by local volunteer specialists. Co-founder Brigitte Sistig says that the goal of RCANZ is to have repair become the norm again in our society.
"Our mission is that people buy wisely, are educated about the durability and repairability of each product and have an interest in taking care of their belongings, so repairing is part of our lifestyle again."
Brigitte has been involved in RCANZ since the beginning, and attributes her passion for repair to her childhood. Growing up in a family where repair was the norm imbued her with a sense of confidence that she has carried into her work. "After dinner, we cleared the dinner and put out a cloth on the table and everyone came in with their project. And we kind of like tinkered and played and repaired and fixed and created together," she says.
Currently, RCANZ is attempting to introduce legislation on the Right to Repair with a petition. "The Environmental Minister David Parker has actually accepted to meet us and to hand over the petition sometime early next month [July 2020]," Brigitte says.
RCANZ began life as Repair Café Auckland, and has since spread across the country, from Paihia in the north, to Dunedin in the south.
Chinese community leader Susan Li Kwan organises a monthly sewing repair café in Epsom, Auckland, where visitors can bring clothing items that need repair. "As the chairperson of the Epsom Chinese Association, I try to encourage our members to join as volunteers". Getting involved in the Epsom Sewing Repair Café makes Chinese seniors feel valued and useful, while also helping to combat climate change, Susan says. "It's quite rewarding, as they find they can do something that can help the community. BBecause of climate change, we want to reduce rubbish, so it is a great job that helps the public."
Retiree Steve Lang, who volunteers at the Ōtaki repair café, echoes these sentiments. "Helping with the repair café provides for me a sense of purpose and usefulness," he says. Steve repairs mechanical items, such as sewing machines and vacuum cleaners. He also supports the main organiser of the Ōtaki repair café in determining future directions and objectives.
Often, it's not about doing a quick repair but taking the time to upskill visitors, Steve says. "A big part of the repair café in Ōtaki is about teaching people to repair things. Not just repairing them ourselves, but actually giving them the skills. It's a bit like the saying: if you give a man a fish, you feed him for a day. If you teach a man to fish, you feed him for a lifetime." In addition, Steve believes that the irreparability of some items brought in is a symptom of our current situation.
"With global warming, we have to stop throwing things away. We have to stop being profligate with resources, we have to reuse, which means reducing waste. Manufacturers can help with this by making repairable goods."
RCANZ is an extraordinary example of an organisation worth celebrating during National Volunteer Week. Running from 19 to 25 June 2022, National Volunteer Week honours the collective energies and mana of volunteers in Aotearoa.
Written by James Ball, AUT, Journalism Student 2022