Lending a sustainable hand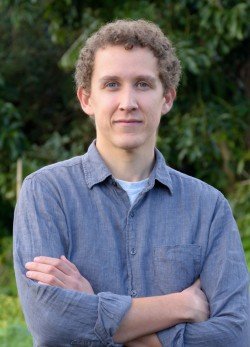 Sean is a volunteer gardener and student mentor at Kelmarna Gardens, Auckland's city farm and organic garden dedicated to sustainable living and a healthy environment. He recently arrived from the US and was amazed to find such an oasis, a lush garden and smallholding with cows, chickens and ponies right in the middle of the city.
He quickly found getting involved, learning about sustainable food production where there's no waste and everything is returned to the environment, was a perfect way to meet the locals. He's now a volunteer gardener and his former teaching experience is being put to great use as he helps with school children visits and teaches the benefits of activities like composting or looking after a worm farm.
Sean says, "The sustainable benefits here are fantastic. Kelmarna's not just about a 'giving back' system of food production, it's also about giving back to the community. The garden thrives on ideas from people and most importantly, working with each other to get those ideas into action."
It's also a therapeutic space for people that have experienced challenges with autism, bipolar disorders and schizophrenia. It helps them get involved in the community while playing to their strengths.
Summing up Sean says, "Kelmarna Gardens is a community space where cool people from all walks of life come to enjoy the outdoors and lend a hand. And in creating a healthy environment that in turn produces healthy food the benefits of our sustainable system are plain to see."
Find out more about volunteering at Kelmarna Gardens