Volunteering with a big heart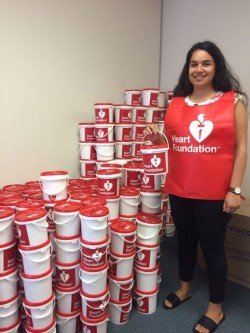 Catherine at the Heart Foundation
Why did you decide to volunteer?
I decided to volunteer as an Area Coordinator for the Heart Foundation's Annual Big Heart Appeal to make a meaningful contribution to the organisation and to learn more about myself.
I knew that the role would be challenging, but that it would be incredibly rewarding at the same time. I wanted to extend my personal abilities, to become confident when speaking in a group setting, to gain experience in a leadership role and to meet like-minded people who are passionate about helping others.
Why did you choose this particular organisation?
I chose to volunteer for the Heart Foundation as I value their mission to reduce the number of New Zealanders dying prematurely from heart disease and to help people with heart disease to live full and productive lives.
My mother is a nurse in the Coronary Care Unit at the Hawkes Bay Hospital and she has witnessed thousands of people and their families who have been affected by heart disease. I knew that the Heart Foundation provided a platform where people with heart problems could share their experiences, they fund and carry out research, they provided educational pamphlets and I wanted to be involved.
What is it you really enjoy about your role and volunteering?
There is a lot to love about volunteering at the Heart Foundation. It has been an absolute privilege to work alongside other volunteers, staff and communicating with volunteers who want to collect for the Big Heart Appeal 2018.
The organisation has been welcoming, supportive and appreciative of the work that volunteers complete. Hence, I would highly recommend volunteering for this wonderful organisation.
Find out more about volunteering for the Heart Foundation