Volunteering brought my studies to life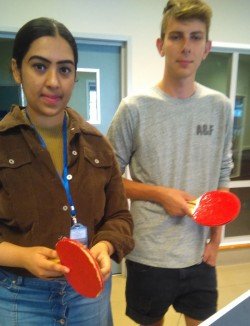 Shivana volunteers at Auckland DHB
Why did you decide to volunteer?
As I progressed through my studies at The University of Auckland's School of Psychology, I saw myself develop a growing passion for the field of mental health. I decided to volunteer as I felt it was the best way for me to develop a greater awareness and understanding of the challenges and struggles that one can face with their mental health.
Why did you choose this particular organisation?
Te Whetu Tawera, Auckland City's Mental Health Unit is a service focused on providing its users with professional treatment, intervention and support along their journey of recovery towards sustainable mental wellness and hauora (wellbeing).
Core values of the Unit include honesty, respect and integrity. An optimism and excellence that is present in striving towards wellness. Manaakitanga, an atmosphere of warmth and care that is especially felt and present in the interactions between staff, whanau (family) and service user and Wairuatanga, the nurturing recognition of the spiritual yet holistic approach to mental and physical wellness.
These values combined provide a stepping board for positive interaction, a platform from where recovery can be facilitated. This not only attracted me to work with the organisation, but I believe is integral to the running of the Unit and the service that it provides.
What do you enjoy most about your role and volunteering?
With recovery being the guiding principle of care provided at Te Whetu Tawera, a range of programmes and activities are on offer to service users: exercise groups, spiritual wellbeing and physical health groups, art, music, therapeutic relaxation.
The volunteer programme aids and supports this process by arranging activities such as chess, table tennis, jigsaw and word puzzles, reading and musical performances. Not only does this provide a form of stimulation, it engages patients with pastimes that bring about a sense of community, companionship and light-hearted fun. This all helps to facilitate recovery.
Wanting to find out whether a career in mental health was for me, has led to my role as an Activity Volunteer at Te Whetu Tawera. What I enjoy most about my role and volunteering is that it provides me with the opportunity to be able to interact with people from all walks of life on a fundamentally human level, an experience I feel I will not be able to exchange for another.
My role has not only been incredibly rewarding and fulfilling, it has brought my studies to life, renewing me with a sense of even greater purpose and passion.
Find out more about volunteering for Auckland DHB