Volunteering when disaster strikes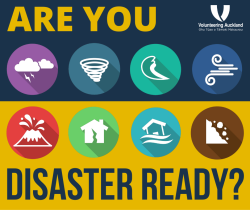 Is your organisation disaster-ready? What would you do if an emergency struck without warning and you had volunteers on site or out in the field? Or you needed to mobilise volunteers to help others?
These and other questions were part of a lively discussion this week at Volunteering Auckland's monthly online forum for Leaders of Volunteer Engagement.
At this week's forum, guest speakers and our members shared their experiences of volunteering during and after a disaster – and we discussed what we each need to do to prepare our organisations for disaster, and the importance of having an emergency plan for our organisations.
2023 has been a wake-up call – with the Anniversary Weekend floods and Cyclone Gabrielle both pummelling Auckland. We learnt that we were unprepared for emergencies of that scale –with widespread power outages, mobile phone and internet connections disrupted, roads flooded or destroyed, and supply chains for food and other essentials affected.
It's a similar story around New Zealand: with widespread devastation in Hawkes Bay, and many other regions also experiencing disruption and damage from the cyclone and other severe weather and rainfall.
The trouble with disasters is, we do not always know when they will strike, or what form they will take (storm, flooding, tsunami, etc). And no two disasters are exactly alike. We might, for instance, be expecting heavy winds, but not sudden flooding, or landslips.
At this week's forum we were delighted to welcome guests Peter Logan of the Pukekohe Community Patrol, and Leon Bro of Taskforce Kiwi – two volunteers who took key roles during recent disaster events – and learnt from their experiences.
During the devastating Anniversary Weekend floods in Auckland, Peter received a text from the Franklin Local Board asking if the Pukekohe Community Patrol could assist in relocating aged residents trapped in their rest homes or private homes.
Many of the Patrol's volunteers are retired and aged themselves – though, thankfully, they had a few younger members who were able to carry aged residents to safety through chest-high water.
They did not think about debriefing afterwards, assuming it would be a one-off event – only to be faced with Cyclone Gabrielle just weeks later.
The community had, however, learnt some lessons – so when the cyclone hit they were better prepared. Local organisations including the local marae, and cadets, stepped forward to volunteer. The netball centre offered their amenities, and Ritchies buses offered a bus to transport people if needed.
While it was encouraging to see how willing people were to help – Peter says the overall response was largely uncoordinated and under-resourced. The efforts were ad hoc, relying on good people putting their hands up and being available with whatever they had to offer. Crucially, it depended on people using the internet and mobile phones to communicate.
Leon Bro of Taskforce Kiwi – a volunteer group of ex military personnel and first responders – shared similar concerns.
Taskforce Kiwi volunteers rallied to assist in the Esk Valley, Napier, emergency. They loaded two trucks with resources to take to those affected – but were not resourced beyond that, and did not have the tools needed to work through the grim conditions they faced, or enough resources for their own needs.
While they communicated and planned well among themselves, there was no mobile phone coverage in the Esk Valley – and the communication, co-ordination, processes, and decision-making from local emergency authorities were lacking.
There was no information on what needed to be done, and where. They drove blindly to a closed road and had to reorganise supplies after one truck broke down and needed dig through a road slip to pass. Hygiene conditions were poor and the stench of decaying animals was unbearable.
Left to their own resources they had to find shelter and food, and volunteers had to be flexible and adaptable to changing needs and circumstances. Leon shared one story of how they cooked a leg of meat – then had to carve it with a machete.
In the group discussion that followed, we looked at key issues which non-profits need to consider when creating an emergency plan to ensure their organisations were disaster-ready:
Communication
• Knowing what needs doing,
• Effective communication between volunteers and your organisation
• Effective communication between your organisation and authorities
• How you would communicate amongst your team, or be able to function generally, if phone and internet services are disrupted
Looking after volunteer wellbeing
• Housing & feeding volunteers
• Health & safety protocols
• Ensuring volunteers are supported in their mental wellbeing
Supporting volunteer activities
• Ensuring they have the tools and resources they need to help others
• Being able to mobile volunteers when needed
Recruiting volunteers
• Being aware of the skills and experience each volunteer has to offer
• Understand volunteers' strengths and limitations, and any health or ability issues
Flexibility & adaptability
• Understand that staff and volunteers may be unable to assist – especially if roads are closed, or they've been personally affected by the emergency. You will have to manage with whoever is able to help.
• Having an emergency plan, and ensuring everyone is trained across the different tasks, so that those people who are available can step into any role needed
Debriefing & learning
• Ensure you debrief after each event – learning from each experience and improving your plan for future emergencies.
In the event of a large-scale emergency there can be long delays before over-stretched services are able to help you, and even longer waits for roads and services like power, telecommunications, water, and sewers to be repaired. You may have to manage for some time before help arrives and infrastructure is fixed.
Remember that no two disasters are alike – and that many of our emergency 'rescuers' are also volunteers, who may not have training for every scenario, let alone had experience in coordinating large-scale efforts and managing the resources to execute these.
And, of course, both volunteer and professional first responders may themselves be affected by the emergency. They may be unable to get to their posts because of impassable roads, or may need to look after their own homes and families.
When your organisation is preparing or updating your emergency plan – remember to factor in your volunteers, whether on site or out in the field, as well as staff and visitors/clients/patients.
Can they get home safely – or should they stay on site until the immediate crisis has passed? Will sending them home clog roads and make getting around difficult for emergency services and infrastructure repair crews to get around? If staff and volunteers can't get home, how would you accommodate and feed them?
If your volunteers are currently safe, keep them that way. Look after them and their needs, and yourselves. And keep communicating. Are they ok? Are they able to help others?
Have you considered whether your organisation might be able to help local residents, or neighbouring organisations? Perhaps you have common areas, kitchen facilities, or space where people could shelter safely. And if you have people who need assistance, let nearby organisations now.
Most importantly – make a plan and communicate it. Be ready!
You never know when you may need it.
---
TOOLKIT FOR GETTING DISASTER-READY AT HOME AND AT WORK
AUCKLAND EMERGENCY MANAGEMENT
Auckland Emergency Management is Auckland Council's Civil Defence arm – and their website has good information on the types of emergencies or disasters we might face; and how you can prepare for, get through, and recover from an emergency event.
Home page – https://www.aucklandemergencymanagement.org.nz/
Being ready at work
Being community ready
Being ready at home
Phone 0800 22 22 00
Facebook – www.facebook.com/aklcdem
NZ CIVIL DEFENCE
www.civildefence.govt.nz
www.getready.govt.nz
www.facebook.com/NZCivilDefence
Getting work ready – https://getready.govt.nz/en/prepared/work/