Volunteering to say 'thanks for having me New Zealand'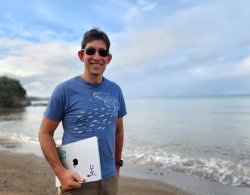 When Urs Steck isn't busy helping set up communication systems for satellites and rockets he has racked up countless hours volunteering for numerous organisations over the years – out of passion for the organisations, and as a way of saying 'thank you' to New Zealand, the adopted country he loves.
Swiss-born Urs Steck immigrated to NZ with his wife in 2012 – having lived in Europe, Japan, and the USA – under New Zealand's 'special skills' visa programme. His special skills are in satellite communications, along with over 35 years of experience in electrical and computer engineering.
'Back in 2012 there was limited work in satellite communications in New Zealand' says Urs. 'However, it is now a growth area with companies like Rocket Lab setting up a facility in New Zealand. Given my main employer was and is based in the USA, and I have very flexible hours working part-time from home, I felt I was not helping New Zealand, the country I'd fallen in love with, directly and wanted to meet more people and be part of the community.'
It was a Google search for volunteering opportunities in Auckland that led Urs to Volunteering Auckland's website.
Volunteering is not as common in the USA reports Urs. 'I was surprised to see how many essential services such as lifeguards relied on volunteers in New Zealand. In the USA lifeguards provide an essential service and are therefore paid. No one in the USA volunteers in what is deemed "essential services". I have 5 brothers and sisters none of whom volunteer and wasn't raised in a family of volunteers, so this was new territory for me.'
Urs first responded to an advert on Volunteering Auckland's website to do volunteer Information Technology (IT) work with various not-for-profits. 'My first volunteering role was with Takapuna North Community Trust, which supports community development in the Takapuna, Auckland area near where I lived. Once a week I assisted them with various IT tasks, helping bring their IT systems and website up to date.'
Urs then went on to join Volunteering Auckland's Membership Support team as a volunteer in 2015. The Membership Support team are a crew of volunteers who keep in contact with non-profit members, checking how things are going, and making sure they succeed with recruiting, training, and retaining volunteers. 'I spend about 8 hours every month in this role supporting 22 active and 17 non-active charities and am now a familiar face and voice to them all.'
Volunteering Auckland itself already had an excellent volunteer IT specialist, who now also supports the wider Volunteer Centre network across Aotearoa – but Urs also helps when needed. When Covid-19 struck, Urs helped support the Volunteering Auckland team as they transitioned from working in the office to their homes.
'Increasingly, says Urs, I could see many charity websites were out of date and reliant on outside suppliers for support. Many, in my opinion, were being taken advantage of by these suppliers who were charging them a lot of money. It meant that I could easily add value with my IT skills as a volunteer and save them money.'
A lot has changed since Urs arrived in 2012, an innocent time for New Zealand from an IT perspective which he estimates to have been about 5-10 years behind overseas markets such as the USA. Urs says, 'We have seen an increase in online fraud, scamming etc occurring in NZ. Fortunately, we now have technology/tools/apps available that enable charities to create and manage their own websites, detect threats such as viruses and fraud, reducing their costs significantly.'
It was through Urs contact with Volunteering Auckland charity member Kaipātiki Project that he heard Pest Free Kaipātiki Restoration Society (PFK) needed some IT assistance. PFK exists to restore and protect the natural environment of the Kaipātiki area of the North Shore, by working with the community. Urs was introduced to Nic Charlton, Conservation Data & Systems Coordinator (their sole paid IT person), and realised he needed some assistance with creating a new website. Urs is now the official volunteer website coordinator and helps keep the website up to date.
Kelly Long, Community Activator at PFK says: 'We are delighted to have Urs on our team as a Website Coordinator, finally filling the significant gap we've had for many years. After revamping our website, we realised there were several areas that required further attention. Unfortunately, our team members have limited time and skills to dedicate to addressing these areas.
'We were fortunate to connect with Urs through the Kaipātiki Project and Volunteering Auckland. Since joining us, Urs has played a vital role in reviewing and enhancing our website, ensuring that the information is both current and accurate. Additionally, Urs kindly takes the time to visit our office personally and capture photos for website usage. This thoughtful gesture adds an extra layer of authenticity to our online presence. We truly appreciate having Urs as a dedicated volunteer!'
Nigel Bioletti, General & Fundraising Manager at Devonport Peninsula Trust says he finds it difficult to believe that there are still people out there who are so good-natured, positive, skilled, and generous with their time.
'Urs is all those things,' says Nigel. 'I put an advert on Volunteering Auckland's website for IT support, and Urs answered almost immediately. Volunteering Auckland provides such a good service, with an easy-to-use website, great communications, and a great support system with regular check-ins from staff. I recommend Volunteering Auckland to anyone needing support that perhaps they simply do not have the money to pay for.'
Urs is a keen tennis playerat Milford Tennis Club, who has also volunteered his time and skills to assist Takapuna, and Browns Bay Racquet clubs to transition from their old websites to Tennis NZ's new ClubSpark system. Tennis Seniors North Harbour initially had no website or membership system so Urs helped them implement ClubSpark there too.
Dave Davies, Browns Bay Racquets Club's new Club President, also recently met Urs and enjoyed playing tennis with him. 'Besides the volunteer work he is doing for us on our website, he has built a mobile phone app to help captains manage their teams for a weekly club competition. It hasn't been implemented yet, but it looks impressive. As well as being competent in what he does, Urs is always willing to help.
'During a recent conversation I had with him, I mentioned that the committee was thinking of designing a survey for members to give feedback on the club's activities, coaches etc. Urs immediate response was, "oh, I can help you with that",' says Dave.
In addition to being generous with sharing his IT skills, Urs gets deep satisfaction volunteering on Motuora Recreation Reserve, a small island in Auckland's Hauraki Gulf that is mammalian pest-free, assisting DOC with conservation work including restoration and planting work.
Urs continues his quest to contribute to New Zealand, forever grateful for the opportunity to call it home, by keeping an eye on Volunteering Auckland's website for new volunteering opportunities.
Written by: Delia Middleton, volunteer storywriter for Volunteering Auckland