The people are all sweet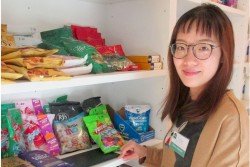 Why did you decide to volunteer?
When I first came to New Zealand I received a lot help from others and for the first time I got a feeling of being encouraged and blessed. I felt I had an obligation to pass on that wonderful feeling to others.
Why not volunteer by giving some time or lending a helping hand to those in need? I began to look for a volunteer job, I was thinking of a much down to earth role which I could commit to for the long term.
Why did you choose this particular organisation?
I found out about Elizabeth Knox thanks to Volunteering Auckland. It's handy and easy for someone new like me to get started. I found it to be a great way to get to know the local community.
What is it you really enjoy about your role and volunteering?
I volunteer as a shop assistant. It was astonishing when I first saw all the sweets and chocolates in stock at a rest home and hospital. Not a single product I had ever tried before. How can I be a good assistant if I have no idea of what the product is like? So I decided to try every possible food and drink that we sell.
After trying several flavours of biscuit I fell in love with Tim Tams. Then I tried the liquorice but couldn't stand it because it reminded me of the old Chinese medicines used to cure sore throat and cough.
Ginger biscuits, ginger crystals, ginger beer... I tried every one of them. In my hometown ginger is only used as ingredient in Chinese cuisine. So if I did not volunteer, I would have no reason to try all these new things!
Maybe it's true that you are what you eat. The people I know here in Knox are all sweet and that's what I enjoy the most every Monday afternoon.