Simply Energy - simply Volunteering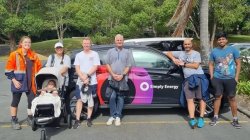 Running for seven kilometres between Rosebank on the Waitemata and Green Bay on the Manukau, the Whau River was once navigated by Māori waka travelling between harbours. Decades of pollution and contamination have led to the establishment of the Whau River Catchment Trust, a charitable entity dedicated to the restoration and sustainability of ecosystems in the awa (river). Through their work, they aim to foster community involvement and kaitiakitanga, offering a number of opportunities for corporate volunteering.
One of these companies that was willing to roll up their sleeves and get their hands dirty was Simply Energy. Executive Assistant and Office Manager Ellie Kazimierzak says that the company values of curiosity, environment, and compassion are a massive contributor to choosing to volunteer.
"We pride ourselves on these values and volunteering absolutely relates to them, with compassion for helping people, the environment and the community."
Simply Energy participated in a native tree planting session along the Whau River in March 2021, an opportunity that they discovered through Volunteering Auckland. After a volunteer day hosted by Simply Energy's head office in Wellington, others in the business expressed interest in participating in similar work.
"We have a small team in Auckland of about 15 people and so we decided to join Volunteering Auckland as well."
A day of planting native trees, shrubs and grasses has been extremely beneficial to many Simply Energy employees, not only broadening their horizons on what volunteering can achieve, but allowing for meaningful connections to be formed between co-workers.
Billing and Operations analyst Nicole says that "Volunteering at Simply has helped open my eyes to the opportunities in the community where I can offer my time and lend a hand where it is needed most."
"Previously I didn't realise there were so many different local charity organisations in need of volunteers, and I have started volunteering my own time outside of the Simply organised events."
Billing team leader Heather says that "Volunteering through Simply has let me connect with people outside of my direct team in a way I might not have been able to otherwise, and it's really renewed my sense of purpose when it comes to being involved in something bigger than myself."
If you're interested in having the same experience, follow this link here to sign up!
Written by James Ball, AUT, Journalism Student 2022