Saving lives on the water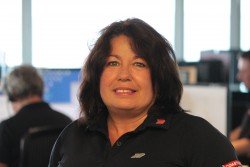 Wendy volunteers as a Coastguard Radio Operator, here's what she had to say about the role:
Why did you decide to volunteer?
I moved back to Auckland after 10 years away. I've always done some sort of volunteer work, usually related to the legal profession, but this time I decided to try something different and connected to what I enjoy.
Why did you choose this particular organisation?
I love the water, had learnt to sail here and I got the idea from a friend who was already involved with Coastguard.
What is it you really enjoy about your role and volunteering?
The view from the office in Mechanics Bay! Seriously though it is an interesting and varied role. The Radio Operator training is incredibly professional and supportive. Even six years down the line there is rarely a shift when you don't learn something. Comprehensive geographic knowledge and, how to handle distress situations for example. Working in a multi agency organisation is also a pleasure (Coastguard, Maritime Police, Westpac, Harbour master).
Regarding the recruitment work, I really enjoy the interaction with the variety of people who offer to volunteer. A recent recruitment evening included people varied in age from 17 to 60+ and from a huge variety of occupations. It is always rewarding to see how people who have never had anything to do with the water or emergency services can be some of the most proficient, motivated volunteers. And, of course I also enjoy working alongside the dedicated staff team at Coastguard.