Part of the Achieve2B family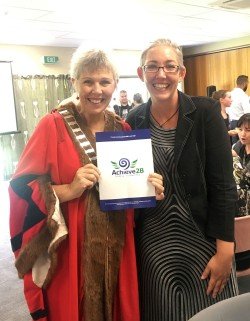 When I was working from home and building my freelance web design business I recalled what one of my previous bosses had told me: every successful business gives back to the community in some way. That made me think of giving a volunteering position a go - after all I had nothing to lose by trying it out.
As a new immigrant I also hoped it would help me learn more about my local environment, and meet some nice people who also care about giving back. Now I have a full-time job, but decided to continue volunteering as I still enjoy it and feel like part of the Achieve2B family and story.
When I saw the position at Achieve2B I thought it would suit me well as I had all the skills required. Also, I had a grandfather who was blind for more than 30 years. He was so inspiring in the way he never complained about his disability, and made it his mission to keep active and busy. He went for daily walks with my grandmother, played bowls and even mended furniture. He laughed a lot, made jokes and was always friendly.
So when I saw Achieve2B's mission was to empower and enable young people with disabilities to have the same opportunities for personal growth as other young people it stood out to me as a worthy, positive cause. I was also curious to see how it all worked and wanted to help by donating my skills to help support the organisation.
I enjoy meeting other volunteers and working with them to support and grow Achieve2B. I also enjoy feeling that I am helping the community in a small way, donating the skills I have and some of my time. Julia the founder of Achieve2B has a lot of positive energy and enthusiasm for what she does, and she expresses her appreciation for the volunteer team's efforts freely. She co-ordinates and leads the team well.
Volunteering for an organisation that deals with people with disabilities also helps remind me there's so much we take for granted in life and it's truly inspiring to see people who are at a disadvantage push through, not give up and bravely participate.
I feel that my role supports the organisation on an operational and marketing level, so even though I don't have much direct contact or involvement with the students whose lives Achieve2B has changed, I am assisting the people who do have that contact and involvement.
Photo of Whangarei Mayor Sheryl Mai with Kari
Find out more about volunteering with Achieve 2B