Lockdown Heroes - Wave of Appreciation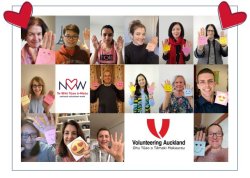 The recent Lockdown put many people in a vulnerable position, reliant on the kindness of others.
The team at Volunteering Auckland wants to give those who volunteer a 'wave of appreciation' because we think you're fabulous!
We know that one of the great things about volunteering is that it's a win-win experience. Volunteers report a sense of belonging, connectivity, purpose, and a sense of achievement. Volunteering also gives you the opportunity to learn about different cultures and communities and to make new friends.
Those who benefit from the kindness of volunteers, from individuals to organisations, appreciate that volunteers help them achieve their goals by bringing specialist skills and many talents to support their clients and their commuities. Most importantly volunteers bring their compassion and their heart!
For National Volunteering Week, we've collected some of our favourite stories to share with you and hope they inspire you as they inspired us.
Ferila, Tamara, Jan and Waihou from Kootuitui ki Papakura
Lockdown took many people by surprise with many families only living week to week, or vulnerable people living on their own. Being able to get in or even afford additional supplies was not available for many people in our communities.
Finding out which families in their community in Papakura who needed help was the role of volunteers Ferila and Tamara, members of the Kootuitui whanau, Many, many hours were spent calling over 350 families to assess their needs, be it food, hygiene supplies, baby products or just someone to talk to outside their own bubbles.
"I had someone to talk to and that gave me a feel good feeling. It was simply nice to know I could help out in just some simple way."
Kootuitui ki Papakura is an organisation that supports six Papakura schools with a programme of health, educational and whanau assistance. Getting that assistance to the many whanau was the role of volunteers Jan and her husband Waihou. Many hours were spent tirelessly delivering the food and products their community needed to get through Lockdown.
Dinesh Khadka fed 800 students
When Dinesh Khadka heard that 800 students had arrived in NZ days before Lockdown and that they were struggling to get food and basic supplies he didn't hesitate to help out. He started by delivering food packs to the students daily.
He would shop in the morning, package up the food into individual boxes, and then deliver it to the students in the evenings. One box would provide enough food for two people to last two weeks, reducing their need to go to the supermarket.
"I took risk myself but in my heart I had to"
Many of the students hadn't been in Auckland long enough to knew where the supermarket was let alone being confident to navigate their way around in lockdown conditions. In the first few weeks, Dinesh paid for the supplies himself, despite his financial situation being uncertain as his cleaning business was closed due to lockdown restrictions.
National Volunteer Week celebrates all those who gift their time, talents, compassion and heart to help others. It's difficult to say who valued the experience the most, the volunteers, or those they helped. But that's the joy of volunteering.
IfIf you want to help others or a cause take a look at our current volunteering opportunities to help make a difference in your community. Or if you are a non-profit organisation and need some helpers, you can find out how to add your volunteer listings here. For corporates, take a look at our employee volunteering programme to see how we can help your team help the community. Otherwise, feel free to contact us. We'd love to hear from you.
Te Hua o te Mahi Tahi - The benefit of working together.