Lockdown Heroes - Mentors for Youth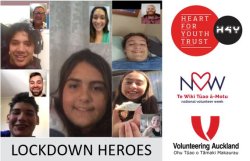 The smiles say it all. The picture montage is screenshots of Heart for Youth mentors and mentees in their Zoom meetings during lockdown.
Heart for Youth is an organisation that supports vulnerable youth. In particular, they offer support to young people affected by family violence and social isolation.
Founding director Ross McCook says, "Normally our mentors have regular face to face meetings and outings. It's the chance for the youngsters to have a few hours with someone they trust and feel relaxed with, and get out and do fun things. During lockdown this wasn't going to be possible."
So Ross and his team scrambled to work out how to set up regular Skype or Zoom meetings.
"Some virtual meetings were about the struggles they were having. Most just simply took their headspace out of the immediate bubble. Their bubbles aren't that great, -some a bit toxic to be honest. So just having someone familiar to talk to, someone quite close that they trust, someone to have a light hearted chat if you can, -was great."
As one of the mentees Sophia said - "It was so awesome keeping in touch with Nicki (her mentor) over lockdown. We did a video call every Wednesday."
"We'd laugh a lot and sometimes talk about some of the anxiety I was feeling about it all. It helped a lot"
Ross mentors three boys himself and managed to keep in contact with two of them. He had regular check-ins every other day. One Mum has a degenerative condition that increasingly affects physical and mental ability, so staying in touch was important.
The list of struggles that can face our youth is appalling. Family breakdown, suicide, depression, drug and alcohol addiction, bullying and social isolation. Changing those statistics and providing real on-the-ground support is what 'Heart for Youth' is all about.
Ross says. "The true place of a mentor is to walk alongside, not to push or pull, and who doesn't want that. We all want someone who is non- judgemental. Not being judgemental is a huge factor. For the youngsters having an adult who's not telling you what to do and is just a friend, has hugely positive outcomes."
Ross wants to thank his team of volunteer mentors. Even through they had problems of their own, job loss made things difficult, they carried on.
National Volunteer Week celebrates all those who gift their time, talents, compassion and heart to help others. It's difficult to say who valued the experience the most, the volunteers, or those they helped. But that's the joy of volunteering.
If you want to help others or a cause take a look at our current volunteering opportunities to help make a difference in your community. Or if you are a non-profit organisation and need some helpers, you can find out how to add your volunteer listings here. For corporates, take a look at our employee volunteering programme to see how we can help your team help the community. Otherwise, feel free to contact us. We'd love to hear from you.
Te Hua o te Mahi Tahi - The benefit of working together.