Locals looking after their own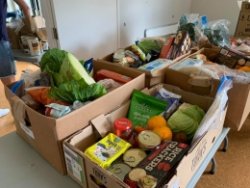 A chance meeting between Project Manager, Carla van Walen and a local Real Estate Agent, Kari-Lee Haldane in 2016 sparked a community initiative that now supports around twenty Beach Haven and Birkdale families every week.
Community Eats is born
The Birkdale Beach Haven Community Project is one of the North Shore's hidden gems. In 1975, its founders set out to create a real sense of belonging in what was then a new and growing community. Their vision culminated in the opening of New Zealand's first "community house", a space for locals to gather and connect.
Fast-forward to 2016, and Carla has received a phone call from rescued food distributer, Kiwi Harvest, extending an offer of support. A serendipitous meeting with Kari-Lee the following day established that daughter, Ruby, needed a sustainability research project, giving the idea momentum. Ruby's subsequent research uncovered a concerning level of food insecurity in the area, leading to the establishment of Community Eats later that same year.
Keeping the vision alive
Today, Birkdale and Beach Haven is a diverse community that is home to seven schools and 18 Early Learning Centres and a growing level of social housing. A population BBCP now supports with two Community Houses offering a range of activities and services including a 'take as you need' outdoor pantry and fridge that receives community donations of food. Community Eats, a critical addition to their programme, provides a food bank and budgeting services for locals facing hardship.
Nurturing a sense of community belonging has remained at the heart of the Community Eats project, which is guided by the principle of "unifying people with sustainable living and sharing food". This meant mobilising locals to provide regular food donations and enlisting volunteers to help pack and distribute food boxes. Four years on, they've offered life-changing support to many members of their community who've fallen on hard times. "It's really common to see solo parents whose kids have grown up missing out on special things that other kids take for granted, like swimming lessons" Carla explained. Helping to address this need by reducing their clients' grocery bills is a driving force for Carla, who's also working to create a network of North Shore food banks to identify better ways of working together.
Uniting the community
Like all food banks, Community Eats has seen a rapid growth in demand for food boxes since the first lock-down. "Our greatest success but also our biggest challenge is that all food is donated. Stock is unpredictable and constant effort is required to keep donations flowing through the door" said Carla. But locals have risen to the challenge with a heart-warming level of support. "We've had schools running 'crazy hair days' in exchange for a can of food and local businesses collecting food items in their shops."
Volunteers, Sally Waller and Sudipta Munsi have been involved with Community Eats from the beginning. "My Dad always said charity begins at home. The Birkdale Beach Haven community is my home and I wanted to give something back" said Sally. Sudipta has witnessed first-hand the challenges that parents can have funding activities for their children. "We help them do more for their kids with the money they save from using our food boxes, and that's one of the things that keeps me coming back to help."
Interested in volunteering to support a community project? Check out our current volunteering opportunities.
Article by Angela Robinson from Warbler Communications.
Warbler creates brands and communications with a heart. They make causes and organisations stand out from the crowd by finding their authentic voice and creating a dialogue around the things that make them great.