Keen volunteers at Special Olympics Tamaki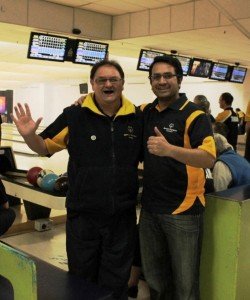 Sugandha and her partner Vaibhav are both active volunteers for the Special Olympics Tamaki club. Every Saturday morning they turn up motivated and enthused to coach, encourage and support the athletes of the Tamaki tenpin bowling team.
The couple have been volunteering for the team since February 2015 and have loved working with the athletes every week. The couple moved to New Zealand from India a few years ago and were looking for some volunteer work as a way to get involved in their local community.
"Volunteering was a part of our lives back home and we wanted to continue with it here."
They found a listing on Volunteering Auckland website looking for two volunteers to help the Tamaki tenpin bowling team. This was a great opportunity for the couple as they had previous knowledge and experience of the sport. The couple was involved in some state and national tenpin bowling tournaments back in India.
"For the first couple of months it was challenging for us to feel part of the Special Olympics family because we brought new ideas to the team. The athletes found these new ideas difficult to accept because they were different to what they were used to."
Two years on the couple are still enjoying volunteering for Special Olympics Tamaki. A highlight for the couple is working with the athletes and seeing them smile. They especially enjoy getting lots of hugs each week from the athletes.
"Tenpin bowling is one of few wonderful games which brings people closer and strengthens camaraderie because we're not playing against each other but against a common enemy, the pins!"