Just like you and me: Volunteering in a mental health unit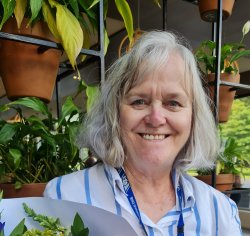 Imagine being asked to set up an entirely new volunteer programme, one that has never been created in New Zealand or Australia. A wee bit intimidating? Julie Hagan of the Auckland District Health Board took on the challenge and approached the mahi ahead with a goal to create a cutting edge programme that would change minds about what is possible.
Ten years later, the Volunteer Programme at Te Whetu Tawera, an Acute Psychiatric Unit in central Auckland, is alive and thriving. We spoke with Julie about the genesis of the programme, the steps to launch, and the impacts it has had.
"The idea of volunteers providing increased activities for clients had been discussed, but never pursued because having psychiatrically untrained volunteers in an in-patient psychiatric hospital was often viewed as unsafe," shares Julie, who became the Project Coordinator in 2012.
Julie saw this opportunity as an extension of her earlier work providing systematic mental health advocacy and as a "chance to say to the public, 'people receiving treatment in psychiatric units are just like you and me.'"
With the enthusiastic support of the leadership team, Julie set about putting a plan in place. She first held consultations with staff, some of whom had valid reservations about safety, confidentiality, and training and then conferred with past and present clients who all supported the idea of extra activities, citing their struggles with boredom while in care.
And thus the programme design commenced, with Julie taking into account learnings from her ngā kōrerorero and her literature research, as well as from Volunteering Auckland workshops.
The programme aims to offer opportunities for fun, distraction from worries, and physical movement for patients on the wards while providing personally enriching opportunities for volunteers.
Volunteers are recruited and vetted with as much care as staff through an extensive interview process in which Julie seeks mental health empathy, appreciation of differences, reliability, and sense of humour, along with police, health and reference checks.
In the practical half-day training session, new volunteers solve a set of scenarios using their Volunteer Booklet which covers their rights and responsibilities, relationships with staff and clients, professional boundaries, confidentiality, health and safety.
Once they begin, all volunteers are supported with supervision and Julie has been delighted to also see "volunteers talk together about their experiences and gain knowledge from each other." Some cite their volunteering as the highlight of their week.
Volunteers lead and participate in a wide variety of relaxing, engaging and meaningful activities for clients on the wards including table tennis, board games, and artwork.
Feedback has been overwhelmingly positive from staff, clients, and their families, with comments such as:
"Playing games with the volunteers has been so helpful to me – they make the Ward 'more like home – more normal'."
The initial programme has expanded to include musicians playing violin, piano and flute, a clothing service, and the much-loved therapy dogs:
Comments range from "I am visiting my daughter who is unwell; hearing those violins helped me be calm" to "Sitting in OT today with the dog and his owner was so relaxing."
To what does Julie attribute the success of the programme? "I followed my instincts and was very enthusiastic, but I can't take the credit. Encouragement from leadership and the support of the amazing and welcoming staff buoyed me along as I started with two volunteers and worked up to 20. It's been a real privilege to do this."
Julie shares advice for those considering setting up a volunteering programme: "Go slowly. Define your goals. Be realistic. Give volunteers flexibility and ways to use their talents creatively. Keep it fresh, be ready for disappointments, and love what you do."