Heart of Gold for Volunteering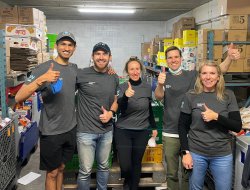 What would you do with a dedicated 150,000 hours? Catch-up on sleep? Master creating croquembouche? Watch the Lord of the Rings trilogy 16,158 times?
For the global Goldman Sachs team they chose something far more altruistic – volunteering. As part of celebrating the company's 150th anniversary in 2019, Goldman Sachs committed to completing 150,000 hours through their Community TeamWorks initiative. This commitment was built on a culture of volunteering, the company having supported 3,000 non-profit partners and completed over 22,000 projects globally.
Five members of the Auckland-based team recently continued the hard work through volunteering at the Auckland City Mission Distribution Centre in Grafton. The City Mission is part of the Kore Hiakai collective, with a goal of reaching zero hunger in Aotearoa. Currently, one in five of us face food insecurity. Food donations are crucial to this effort to fight hunger and the City Mission receive large pallets of assorted food daily. Distribution Centre volunteers are responsible for sorting the content of those big pallets into categories (the old, are muesli bars closer to "biscuits" or "cereal" debate!) and then assembling balanced food parcels.
Bex Bennett from Goldman Sachs shared that the team enjoyed giving back and, at times, embraced their competitive spirit when streamlining the sorting and packing process. They left with a greater insight into what the City Mission does. The change of scenery also helped the team to build stronger relationships and see each other in a different light. Bex noted that they were "forced - but in a good way!" to put their skills to use and work together.
The team have busy schedules, both professionally and personally. Bex highlighted how Goldman Sachs makes volunteering more accessible by supporting the team to volunteer during work hours. Given how busy they can be, Bex also reflected how Volunteering Auckland has been pivotal in "taking away the hassle" relating to organising the right volunteering opportunity. Goldman Sachs first used Volunteering Auckland's services in 2008 and found they offer a great range of options.
Overall, Bex considered their time a great day out and was inspired by the work of the City Mission. With the City Mission on track to deliver over 60,000 parcels this year, Goldman Sachs hopes that sharing their story means more companies will back team volunteering and help fight food insecurity.
For more information on volunteering at the Auckland City Mission, head to: https://volunteeringauckland.org.nz/orgs/14-auckland-city-mission
For more information on Goldman Sachs' Community TeamWorks, head to: https://www.goldmansachs.com/citizenship/community-teamworks/
Writer: Caitlin Craigie, June 2022