A weekly highlight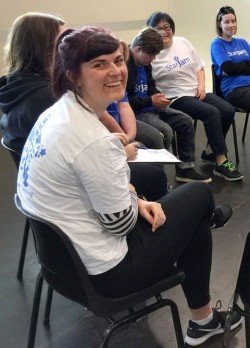 Gena volunteers at a StarJam dancing workshop
In 2017 I moved up to Auckland, as a newbie to the big city I decided to look for some new experiences to get better acquainted with my community.
Each week a friend from work would unfailingly share her stories from a Star Jam drumming workshop, it was obvious how much she enjoyed the experience and how important this part of her week was. After hearing about her experience and how close she was with the jammers I couldn't pass up the opportunity to join in and learn more about this inspiring community.
Star Jam is an amazing organisation making an important difference. Knowing what the jammers get out of their workshops and the Star Jam community every week, it's impossible to not want to get involved!
Before starting I was quite nervous, having never volunteered with young people with disabilities before. However after my first workshop, I was pumped and completely inspired to support this community! The Star Jam team and other vollies were so friendly and inviting and all of the jammers are amazing!
All of my jammers have unique, cheeky and enthusiastic personalities, making workshops a weekly highlight. But more than anything, the best part about Star Jam is the Jammers and the progress each young person makes throughout the year, making the end of year concert such a proud moment. I can't wait for 2018!
Find out more about volunteering with StarJam Charitable Trust