Giving families with a hospitalised child what they need most – each other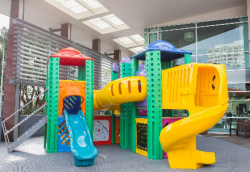 Imagine if you found out your child urgently needed hospital treatment – where would your mind go to first? Most likely, convenient accommodation or what you might eat would not be top of mind but yet it is one of the many aspects families need to balance when the medical treatment their child needs is not available in their area.
The team at Ronald McDonald House (RMDH) remove many of the financial and logistical burdens associated with children obtaining hospital care who are from out-of-town. Accommodation, food, parking – there are myriad expenses that add up quickly, especially if your child requires longer stays.
Irene, who volunteers on weekly reception at Ronald McDonald House, says ''I chose RMHC because I had a family member who had a child that was sick with cancer, they told me how amazing it was to have a place they could call home whilst their child received treatment. They said they didn't know what they would've done without it the help of RMHC. I decided that I wanted to be a part of something like that, I enjoy being able to make a difference and help others going through a tough time".
RMDH is actively seeking more volunteers so they can continue to support New Zealand families. There is something for everyone with a broad range of volunteer areas on offer including:
Duty Support – assisting with sign-ins, greeting families, answering calls and conducting RATs.
Maintenance – painting, gardening, water blasting, driving and any other jobs that your experience allows.
House Heroes – assisting the housekeeping team to maintain tidy and hygienic spaces.
Food Service – assisting the RMDH chef with food preparation and taking food up to the hospital for families.
Group Dinner Volunteer Host – supports groups that are preparing dinners at the houses.
Ad-hoc Fundraising Support.
In terms of finding the right role at RMDH, Angie Bradley, Auckland Volunteer Manager, suggests you consider factors such as your existing skills/any skills you would like to develop, the physicality of the role type, and whether you're confident to "have a chat with anyone" as you'll encounter a wide range of people. There's flexibility around the frequency at which you volunteer, but they would prefer an ongoing commitment due to the police checks and health and safety inductions that are core to keeping everyone safe.
Angie knows just how much support RMDH offers impacted families. She shared that Ronald McDonald House Charities New Zealand Trust, which operates the three houses across Auckland and Wellington, provided 28,441 nights of accommodation to 3,697 families, and were able to save those families $7.4m in saved in accommodation, meals and parking costs during 2020
To help RMDH achieve "[giving] families with a hospitalised child what they need most – each other" through volunteering (both individual and group), check out their volunteer opportunities click here
Written by Caitlin Craigie,VA Volunteer [Media Team], October 2022