Gratitude drives giving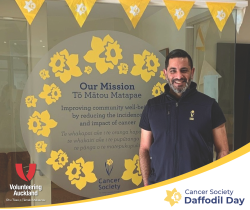 Kapil Chadha says his life used to revolve around making money – but now his focus has shifted to raising money and seeing the reward in a smile.
Kapil will be pulling on a daffodil-emblazoned yellow hi-vis vest for the first time this year, volunteering as a Daffodil Day 2023 Area Coordinator. The collection area where he will manage a team of volunteers for the Cancer Society's annual Daffodil Day street appeal takes in the Auckland suburbs of Sandringham and St Lukes.
Kapil, who also works as a casual in the reception team at the Cancer Society's Domain Lodge in Auckland – a home away from home for cancer patients undergoing treatment – is excited by the opportunity to be involved in the iconic fundraising event.
'I have had some issues in the past with my health and I have a lot of gratitude for the health services in New Zealand,' he says. 'I have had a career working in the corporate industry, where I was running around chasing money and it was about materialistic things.
'I wanted to do something for people, so I did a bit of searching and researching. I learned about the Cancer Society, about the rising number of people getting the disease and how much help the Cancer Society offers from initial diagnosis through people's whole journey.'
Kapil says has been loving his time working at Domain Lodge and sharing a smile with guests. 'I find it quite emotional. It has helped me personally to experience this. It's as if I had been looking for something and now it's right in front of me.'
Daffodil Day is a great chance for people to give back to the Cancer Society to help it continue to provide vital and life-changing services, including access to free accommodation across the country such as Domain Lodge where Kapil works. Funds raised through Daffodil Day also supports transport to and from cancer treatment, work in the cancer prevention and advocacy space, life-saving research into prevention, diagnosis and treatment, and providing nurses and counsellors to support people affected by cancer.
Can you spare two hours to help people with cancer?
VOLUNTEER HERE as a Daffodil Day Street Collector on Friday 25 August and/or Saturday 26 August 2023.
To find out more or donate today, visit daffodilday.org.nz.