Through the lens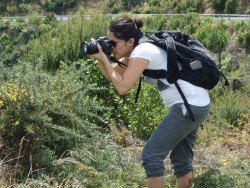 Sol is a volunteer photographer here at Volunteering Auckland, here is her story:
Why did you want to volunteer?
Like many people who come to New Zealand I arrived with many dreams. Without a work visa, and being a person that can't be doing nothing I decided to look for options and one of them was to be a volunteer.
Why did you choose Volunteering Auckland?
I am a professional photographer and I was sure that if I was going to help in some way, it would be based on what I do and what I enjoy. When I searched the options for volunteering Volunteer Auckland was the only place that gave this opportunity. Now I can help doing something that I am passionate about.
What do you enjoy about volunteering?
I never thought that being a volunteer was so comforting. I enjoy taking pictures in the beautiful places that this country has, and through my lens I have been able to observe the faces of many people, their joy and determination, the way they help without expecting anything in return performing tasks that will benefit third parties. Through them I learn every day and value more because of how they give their time to help others.