Circus and smiles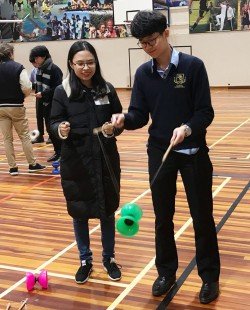 Circability is a social arts programme teaching circus skills to all ages and abilities.
My name is Yiran and I am from Beijing, China. I moved to Auckland in January and though I have visited this city twice, it still seems unfamiliar to me as I barely know anyone here. It is even more challenging for me as English is not the official language in my country.
In order to improve the situation I chose to be a volunteer as it could be a fast and easy way to get to know people and immerse myself in this new environment.
I decided to be a teacher assistant for Circability because I have some relevant experience and I like circus. I was warmly welcomed and kindly treated by the Circability staff.
My volunteer journey began with assisting the teachers of circus classes for primary, intermediate and high school students. The teachers are passionate about teaching and spare no efforts to encourage the students. They set a good example for me and I am learning about how to teach from them. As I get to know more about Circability, I am also involved in doing statistics and marketing for which I offer ideas and what I can to help. I am glad that I can contribute and make things better.
My presence in class means that students can receive more guidance and attention. I am able to target those who are in need of help and patiently assist them. As I am in the diabolo classes for Chinese students, I am happy to see their progress in improving circus skills and more importantly, their increasing interests in sports and growing self-confidence.
I find it very rewarding to assist the disabled to learn circus. Their joyful smile always make my day, and with my assistance, the office work of Circability has also been pushing forward.
I feel like I am a member of the Circability family now. I am lucky to find it and happy to be part of it, and would like to be a long-term volunteer.
Find out more about volunteering with Circability