Beyond Expectations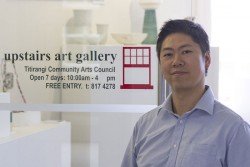 As an international student just arriving in New Zealand I wanted to find a way to familiarise myself with the new environment. Completely by chance I heard about Volunteering Auckland from a friend. I thought it would suit my needs well to be a volunteer. It would help me to quickly get to know the people and culture outside of campus.
I also found that most volunteer jobs could be flexibly scheduled. This was another important advantage because I didn't want the volunteer job to interfere with my school studies. Wasting no time, I registered with Volunteering Auckland on their website and started looking at vacancies.
On reflection, I have to say I was lucky that I chose to work as a gallery assistant. I wanted to do voluntary work for a gallery because personally I like appreciating visual art as a hobby. Also, I endorse the idea that art needs nourishment, and artists need extra support from our society. I feel very satisfied to make my contribution here. To add more to my satisfaction, I was given the chance to practice my field of studies. I am studying professional accounting, and here I am assigned the work of an accountant! This volunteer experience would even help my career! To be honest, this has been beyond my expectation.
Overall, I very much enjoy my role as a volunteer in this organisation. Personally, I like being surrounded by art. It also gives me the opportunity to communicate with local people, and to understand the culture, and the business. Like I said before, it has even become an experience for me to practice what I learned from my studies, which is amazing. I would definitely recommend to other international students to participate in volunteering.