Believe in this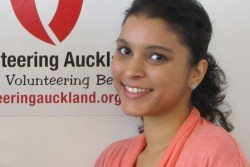 If one truly believes then believe in this:
"Small acts, when multiplied by millions of people, can transform the world!!"- (anonymous)
My "small act" was to take up a volunteering position with Volunteering Auckland. I had just moved countries and was in the dreaded cultural shock zone (not knowing many people, unfamiliar surroundings, nothing but time on my hands).
This was when, I chanced upon the Volunteering Auckland website while aimlessly surfing the internet. With so many opportunities to choose from I saw it as a good platform to meet new people. Rather than sitting at home and waiting for my partner to get his next days off to have an outing. I saw it as an opportunity for me to do something and be a part of the community by offering a few of my hours.
It still amazes me as to how people feel like family just within a few days of volunteering. I feel right at home and my life feels transformed as I can see that I have come a long way from being able to do nothing to looking forward to coming in once a week to volunteer. I get to learn so many new things each day and everyone is so patient during the learning process.
With my role as an admin staff, I can see that I have the opportunity to guide and help someone else who has had a similar experience or are just wondering what they can do with their spare time. I believe that in this life not everyone can do great things. But we can do small things with great love to change someone else's life.