A child's one true wish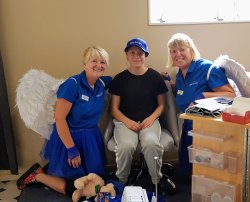 As volunteer coordinator at Make-A-Wish New Zealand, Julie Orchard oversees over 180 volunteers up and down the country, from Kaitaia to Invercargill.
"They're our wish fairies," says Julie. "Determining their wishes and getting to know the child provides the magic."
Make-A-Wish New Zealand grants the wishes of children with life-threatening critical illnesses to bring hope, joy and strength along their health journey.
Make-A-Wish volunteers Janet and Carol delivered a sewing machine, overlocker and foldaway table to excited Wish Child, Anika. Within two weeks they received a photo of Anika modelling the first dress she made on her new machine!
Over 2500 wishes, like Anika's, have been granted during Make-A-Wish New Zealand's 36-year history, with 220 wishes scheduled to be completed this year. Volunteers are integral to achieving that, says Julie.
"We have 19 full-time and part-time staff in our Auckland office, so we can't be all over New Zealand meeting with our wish families and children. We rely on our volunteers to be able to create the relationships with wish families and deliver all that we do."
Julie says that a years-long partnership with Volunteering Auckland has been essential in recruiting volunteers.
"We have been successful in fulfilling several positions thanks to Volunteering Auckland."
Primarily, volunteers will be the main point of contact for Make-A-Wish children and their families. This can range from identifying the child's one true wish, to collaborating with Make-A-Wish's office team to craft an extraordinary wish experience. They will also take part in events, help fundraise, and serve as a representative for the organisation in the community.
"It's a very personal kind of connection. You're that child's wish fairy, you're their special person. Our volunteers are the ones who are there, in the beginning, to capture it and there at the end to deliver it. I think with Make a Wish, it's just such a positive, uplifting experience."
Make-A-Wish New Zealand is currently looking for volunteers in the Northland and South Auckland area, especially those of Māori and Pacific descent. Julie says that she wants a culturally diverse volunteer base that reflects New Zealand's population as that provides the best support to our children and families..
"Part of being a volunteer is connecting with the child and family, building that rapport and trust. If we could get more Māori and Pacific people on board, it would really help us to deliver our wishes for families in those areas."
If this sounds like something you'd be interested in, follow this link here to sign up!
Photo: Wish Fairies, Janet and Carol, helping Anika fullfil her dream of being able to sew her own clothes.
Story written by James Bell, Unitec student, November 2022