Volunteering Auckland welcomes new Patron Cr. Richard Hills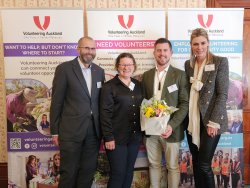 Volunteering Auckland Ohu Tūao o Tāmaki Makaurau was delighted to officially welcome Auckland Councillor Richard Hills as its new Patron, at an event celebrating National Volunteer Week 2023.
'I am full of admiration for everything that volunteers, and the great organisations they volunteer with, achieve,' says Cr Hills.
'Volunteers do so much, with so little, for so many. They are the glue that bring communities together.'
Volunteering Auckland is a one-stop shop for volunteering around Auckland. Volunteers can browse hundreds of roles advertised through our online portal to find the perfect opportunities for them. We connect non-profits with great volunteers, and support them with advice, training, and networking opportunities. Volunteering Auckland also matches business teams with volunteer opportunities for community good.
Cr Hills says the challenges of recent years – including Covid, floods, and cyclones – have highlighted the incredible contribution of volunteers around Auckland, and the service provided by Volunteering Auckland, more than ever before.
'It was an honour to be asked by the amazing Cheryll Martin QSO and her passionate team at Volunteering Auckland to support their organisation as their new Patron. I'll help celebrate their work supporting, training and connecting volunteers across our city,' he says.
Volunteering Auckland co-chair Rich Easton says: 'Councillor Hills' passion for developing the communities across Tamaki Makaurau through volunteer-led initiatives will ensure a strong voice at the leadership table at Auckland Council. He understands the impact that volunteers have every day in our community, and the importance this plays in developing a rich social network around the city.'
Cr Hills says he's proud to be part of an organisation which honours the collective energies and mana of volunteers.
'It's a great time to get back to volunteering or volunteer for the very first time. Contact the team at Volunteering Auckland or seek out groups or organisations you may be able support within your community,' he says.
'If you can't volunteer right now, please thank volunteers for their work or donate to a community group doing the mahi for us.'
Cr Hills is an Auckland Councillor for the North Shore ward, and is Chair of the Planning, Environment and Parks Committee. He was previously a member of the Kaipātiki Local Board, and a youth worker across Auckland. He has a passion for Tāmaki Makaurau, investing in people, the environment and getting good things done with our communities. He believes empowering and celebrating volunteers is crucial – as it can only make good things happen.
PHOTO: Volunteering Auckland Co-Chair Rich Easton, General Manager Cheryll Martin QSO, Patron Cr. Richard Hills, and Trustee Natalie Burrett