Celebrating amazing Leaders of Volunteer Engagement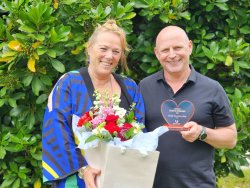 We've had a fantastic time celebrating the Volunteering Auckland 2023 LoVE Awards – which celebrates outstanding Leaders of Volunteer Engagement, who inspire and lead volunteers who do so much for so many across the whole of Auckland.
Our hearty congratulations to our award winners:
2023 LEADER OF VOLUNTEER ENGAGEMENT
Lindy Kawharu-Lely – Manager Volunteering at Te Toka Tumai (formerly the Auckland District Health Board)
2023 VOLUNTEER INVOLVING PROGRAMME
St Andrew's Village, Glendowie – accepted by Robyn Liddle, St Andrew's Volunteer Co-ordinator
2023 CORPORATE CHAMPION
KPMG New Zealand – accepted by Justine Todd, National Manager Corporate Citizenship
It was so lovely to watch the genuine surprise and delight on the faces of our winners as they were announced – as we and their bosses had managed to keep their win a tightly-held secret.
To our phenomenal winners: Congratulations! We are in awe of what you do – and we salute you!
A hearty thanks to everyone who helped make this such a special event: Volunteering NZ chair Sudha Bhana, who stepped in as MC at the last minute when our amazing GM Cheryll Martin QSO fell ill and was unable to attend; our Patron Cr Richard Hills for being our guest speaker and an award presenter; guest panellists David King of KPMG and Sue Kobar from IHC; Volunteering Auckland co-chair Rich Easton for presenting two awards; and Volunteering Auckland's staff and volunteers for all the behind-the-scenes organisation. And let's not forget the group of children from Sistema Aotearoa in Otara, who charmed the audience with three lovely musical pieces.
Sudha Bhana, Chair of Volunteering NZ and Volunteer Manager for the Cancer Society Auckland-Northland opened the awards with a mihi to welcome everyone to Volunteering Auckland's LoVE awards for 2023, and introduced this year's theme of 'Helping People Help'. 'Volunteers are the glue that holds us all together,' said Sudha prior to leading everyone in waiata Te Aroha.
Guest speaker Cr Richard Hills – VA Patron and Auckland Councillor – explained that his volunteering journey started whilst at school, which led to his current career path in community service. Over the years he had seen volunteering help people overcome loneliness and isolation, which has sadly reached epidemic proportions in New Zealand, and was privy to the amazing volunteer contribution made during the floods of early 2023 across the North Island of New Zealand. He saw wonderful community connectedness, which has been lost slightly since then.
'Climate change and combating the cost-of-living crisis are going to need a lot of volunteer resources going forward,' commented Cr Hills. 'Volunteering is the whenua that enables the work we do across Auckland.'
The first award presented was the Corporate Champion Award – presented by Volunteering Auckland co-chair Rich Easton to KPMG New Zealand for their impressive Corporate Citizenship programme.
The award is given to a business which a) truly champions a culture of volunteering in their organisation; b) demonstrates a commitment to the common good and c) fosters the belief that they should be good citizens in their own neighbourhoods and the world at large and which encourages and inspires their employees to do the same.
The award was accepted by KMPG National Manager of Corporate Citizenship, Justine Todd – who was completely taken by surprise by the win (unlike her boss David King, KMPG executive chair Matt Prichard – who were in on the secret, and were also at the event – or Justine's husband, who we'd conspired to smuggle in to the back of the room without her seeing him).
Justine, who had worked in her current role at KPMG for the past 10 years, said she felt incredibly lucky in her role. 'I work with a lot of smart, hardworking people who are keen to contribute to the wider community'. She said her role was to facilitate what other staff achieve and felt humbled, shocked, and excited to accept the award.
We then welcomed guest panellists David King, Partner Deal Advisory at KMPG NZ, and Sue Kobar, National Manager Volunteering & Community Development at IHC – who talked about how, and why, they build a build a culture of supporting volunteering into their organisation strategies.
David opened by explaining that KPMG consists of New Zealand owned partnership offices around the motu and stressed the importance of staff connecting to their local communities. Their values of integrity/excellence/courage/for better guide KPMG staff every day along with a 4-step plan:
Set Goals – 50% of all staff volunteer, 50% of partners/directors to participate in volunteering with the latter role modelling volunteering by 'walking the talk'.
Encourage – staff are given a paid day off each year to volunteer – and many are inspired to actively volunteer in a range of ways outside their work lives. KPMG also has established relationships with the Springboard Trust, Graeme Dingle Foundation and numerous other organisations; all partners actively volunteer in various school or community trust boards.
Facilitate opportunities – KPMG has participated in an impressive number of team volunteering days facilitated by Volunteering Auckland – taking up opportunities which help the community and environment, and with the added benefit of being great team building events.
Measure – number of staff participating in volunteering, recording time spent volunteering. Measuring impact is tricky, said King and something they would like to improve on.
Sue Kobar commented that volunteering is the essence of IHC, where she has worked for the past 12 years.
'We have put a lot of emphasis on gathering evidence of impact rather than just relying on anecdotal evidence,' Kobar says. 'We have taken best practice to task and collect stories that illustrate impact.'
She also spoke about the importance of valuing volunteers, and considering the language we use around volunteering.
'We have encouraged the removal of the word "just" a volunteer and say "our" volunteers. We believe the words paid and unpaid staff enable greater inclusivity than staff and volunteers. Elvis Presley once said, "Values are like fingerprints. Nobody's are the same, but you leave 'em all over everything you do". Each person has their own unique set of values, just like their fingerprints. These values are reflected in our choices, motives, desires, and actions. They are what make us who we are and guide our behaviour.'
Attendees were then treated to a performance by seven Year 6 students from Bairds Mainfreight School, who are members of the music charity Sistema Aotearoa.
Sistema Aotearoa, based at Ōtara Music Arts Centre (OMAC), is one of New Zealand's most unique and effective music and social development programmes. Sistema Aotearoa works to unleash the potential of tamariki, whānau and communities through orchestral music making. The programme fosters confidence, teamwork, pride and aspiration in the children and their wider community, bringing about social change, community empowerment and supporting the wellbeing of tamariki and whānau.
Since its inception in 2011, over 3000 children have been uplifted by the programme. In 2023, over 1,200 Māori and Pasifika students, aged 2 to 20 years, will participate in diverse activities including lively pre-school music sessions, concert performances, in-school musicianship lessons, and instrumental tuition after school and in school holidays.
The group performed Twinkle Twinkle Little Star by Mozart, Samoan song Le 'aute, and Ode to Joy by Beethoven. 'I feel proud to entertain everyone today but was nervous,' said one of the performers.
Then it was time for the second and third awards – presented by Volunteering Auckland co-chair Rich Easton.
The Volunteer Involving Programme Award is given to an organisation which demonstrates overall excellence in making a significant difference for people, a community group, or cause.
This year's recipient is St Andrew's Village in Glendowie, which has a thriving volunteer programme supporting around 139 rest home hospital, care suite, respite care, and dementia care residents.
The award was accepted by the village's Volunteer Co-ordinator Robyn Liddle.
A completely surprised Robyn said she was delighted their programme has been chosen as this year's winner. She felt that winning the award would be significant in that it can be used to further advocate for volunteering.
The final award was the Individual Leader of Volunteer Engagement Award, which recognises a person who has shown exceptional volunteer leadership and influence – in support of people, a community group, or cause. It pays tribute to dedicated and passionate individuals with a sustained and substantial record of commitment.
This award was presented to Lindy Kawharu-Lely, who personifies all of this and more. As Manager Volunteering at Te Toka Tumai (formerly Auckland District Health Board), Lindy and a team of just three staff manage volunteers across Starship Hospital, Auckland City Hospital, and the Greenlane Clinical Centre. She is also on the Board of Volunteering NZ, and volunteers with the Cancer Society.
'You never do this work alone,' said Kawharu-Lely, as she thanked her colleagues and volunteers. She noted that while measuring the hours and impact is important, that as a leader of volunteers, the most important thing is that you believe in, and inspire, your volunteers.
The event closed with a rousing singing of waiata Tutira Mai (joined with gusto by the fabulous kids from Sistema Aotearoa!), a closing karakia, and presentations of flowers to thank our guest speakers and presenters.
After the formalities Rachael Bro, Community Outreach and Training Co-ordinator at Volunteering Auckland, led a karakia mo te kai to bless the food, and everyone enjoyed the opportunity to mix and mingle over a lunch – which included delicious mini-muffins topped with VA's logo, provided by fabulous baker Miss Melicious.
A big thanks to everyone involved in arranging this special event, and who participated. And, of course, our congratulations to the deserving winners of this year's awards.
Volunteering Auckland is delighted to honour the work you have done to lead and inspire volunteers and, through them, accomplish so much in so many communities and in enhancing the environment we enjoy.
Written by Volunteering Auckland volunteer writer Delia Middleton, and VA media co-ordinator Ruth Jackson
PHOTO: Lindy Kawharu-Lely with colleague Rodney Whitmore