Volunteering: A Whānau Affair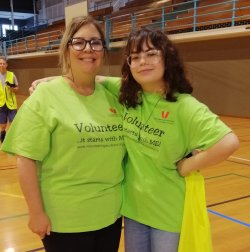 Looking for an activity your whole whānau / family will enjoy? Volunteering can be a dynamic, rewarding way to bring everyone together. Whether you're organising a food or clothing drive or cleaning up a street or river, volunteering as a family amplifies your impact on the cause—and gives you some quality time together. Volunteering can get everyone thinking positively and prioritising what's important. Plus, you'll make some great memories!
Jody Sidley and her daughter Scarlett [15] arrived in Aotearoa New Zealand on secondment from America in December 2019, right before Covid. Jody contacted Volunteering Auckland looking to find ways to help through volunteering. Jody says,
"We try to volunteer when we can as a family, it reminds us to be grateful, gives us a sense of pride, community and giving back."
If giving back is already a priority for you and your family, find ways to work around challenges like age restrictions. Start with a family conversation so everyone can weigh in on the idea. Ask what cause or event everyone is interested in and can agree on. The more the family is amped up about a cause, the more rewarding the experience will be.
One place you can volunteer as a family is with Special Olympics NZ. Special Olympics provide a year round sports training and competition programme, in a variety of international sports for children and adults who have an intellectual impairment. Volunteering Auckland referred Jody and her family to assist Special Olympics with their recent Basketball Tournament.
"We were assigned score keeping for a basketball tournament. Scarlett was on the court and I was tallying scores on the computer. [We had a ] fun time helping and especially loved watching the kids be competitive and having so much fun! Thank you for a great day Volunteering Auckland!"
If you and your whānau want to help others or a cause take a look at our current volunteering opportunities to help make a difference in your community. Or if you are a non-profit organisation and need some helpers, you can find out how to add your volunteer listings here. For corporates, take a look at our employee volunteering programme to see how we can help your team help the community. Otherwise, feel free to contact us. We'd love to hear from you.
Te Hua o te Mahi Tahi - The benefit of working together