The Pumphouse Theatre - worthy of a visit!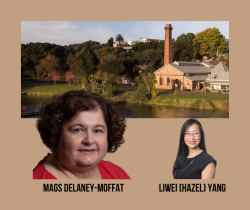 It is highly unlikely that the builders of a pumphouse in 1905 would anticipate its end use as a boutique theatre destination. But that is all part of the magic of heritage site The PumpHouse Theatre, nestled on the shores of Lake Pupuke in Takapuna.
As Mags Delaney-Moffatt, Community Engagement Coordinator at the Theatre explains the "magical setting" was created by volunteers who were actively seeking a performance venue on the North Shore. Volunteer Liwei (Hazel) Yang agrees that there is something special about the place with its "beautiful history".
Both women share their views on volunteering, community and what makes The PumpHouse worthy of visit.
What do you enjoy about your role at the Theatre?
Mags: "I really enjoy working with a broad range of people, including people I may not have necessarily met otherwise. The people I work with are friendly and supportive – sometimes it feels like I am not actually at work. I know we have a great team culture here as sometimes we get told off for laughing too much when the Box Office team are on the phone!"
Liwei: "I support the Creative Talks at the Theatre. This means I am exposed to the creative world, which is a contrast to my day job working in IT – a very logical field.
I am fortunate to have found a volunteering role that I find incredibly interesting but also works around my busy schedule."
Liwei says, "I find during my time at the Theatre I can feel a great sense of community."
What are some of your most valuable experiences here?
Mags: "The PumpHouse can be described as "for the community, by the community". I was excited to recently host an open day here where a local theatre group brought costumes along and we are able to showcase what happens backstage. We are fortunate to have the support of Carmel College students too. I also love the annual Christmas carols and so do our audiences – the event sells out before it is even advertised."
Liwei: "I find the Creative Talks' content very interesting. For example, one talk was about acting and how to use your voice to convey different messages. It was amazing to see how the same words could come across so differently with tone changes. This was helpful for me professionally as I moved from a technical role to one with a higher customer interaction component.
As a migrant, I also enjoyed a talk on Māori history in Takapuna as it helped me to better understand my local history."
How would you recommend choosing the right volunteer opportunity?
Mags: "Just go for it. You will not know what you can and cannot do until you try things out. Also, pick opportunities that you find interesting and match some of your skills. I also volunteer with CAB as I know I have two key skills – being a good listener and communicator."
Liwei: "First and foremost, ensure you are realistic about your schedule and capacity. Then make sure to choose an opportunity you find interesting as this will increase the likelihood that you will volunteer longer-term. This helps provide stability to volunteering organisations."
What types of volunteering roles are available at the Theatre?
Mags: "We often have people tell us that they did not know about The PumpHouse Theatre, even if they have lived locally all their lives. Therefore, it is crucial we focus on community outreach to continue to thrive in the future. We have a range of opportunities from the one-off (such as updating patron databases) through to the more ongoing such as becoming an usher or a community networker (who promote our events)."
The Pumphouse Thearte is definitley worthy of a visit!
To learn more, please head to
https://pumphouse.co.nz/whats-on/participate/volunteer/
Writer: Caitlin Craigie, June 2022