Intentional engagement with diverse communities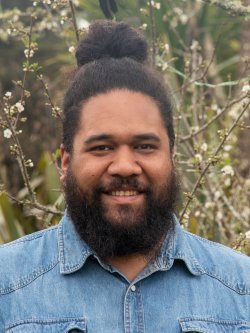 Commitment to giving back to the community is in Sam Tu'itahi's blood.
As Community Activator for the Kaipātiki Project he gets to express this commitment daily. "I feel very privileged to be able to provide others with the opportunity to experience the joy of volunteering. I grew up with it and I know how fulfilling it is." says Sam.
The Kaipātiki Project is a North Shore based not for profit organisation that started in 1998 when a group of locals joined together with the Council to prevent the further degradation of a small fragment of natural bush reserve. Sam says it began simply, with weeding and planting.
Fast forward and today the Project has a nursery growing 40,000 native plants carrying more than 90 species (the average commercial nursery has 30 species.) Overarching principles of sustainable living, biodiversity and providing learning opportunities through education see the Kaipātiki Project involved in wide ranging restoration, regeneration and waterways conservation projects across Auckland's northern areas.
Volunteers are the heart and soul of Kaipātiki and Sam has the pedigree to lead and organise them. As a young boy growing up in Glenfield his family was always giving back to the community. "It seems like I've been volunteering all my life. We were always helping out at some fundraiser or community event. It was a given that we would always donate our time to others" he says. Sam was also part of the University of Auckland's MATES Mentoring programme and served his community through roles in education trusts Ako Matatupu and Manaiakalani and in programmes for positive parenting and youth development.
A volunteer role in the Kaipātiki nursery led to Sam taking the role of Community Activator, a role he has held for 3 years. "It's an incredibly fulfilling role and melds well with my Tongan world view where we are part of nature" says Sam.
Beginning as a bridge between the Project's nursery, gardening and regeneration teams and the community, increasingly Sam's focus has been to grow purposeful engagement with the wider demographic and to find purposeful ways to engage with these communities. He has been instrumental in nurturing a culture that is volunteer-led.
Two years ago Sam developed Kaipātaki Project's first Volunteer Strategy. "A mission statement is great,'' he says, "but you have to stop and think about who you are really serving and how you can create tangible links with these people." This has led to intentional engagement with more diverse segments of the community and careful unravelling of what they need from a volunteer experience. "For some communities, instead of corn and peas, we will grow kumara and taro" says Sam.
Nastaran Saffaryazdi comes from Iran and has been volunteering for the past 19 months after joining a "Grow Your Own Food" workshop at the Kaipātiki Project. "Sam knows how to interact with all people and motivates us to learn. Visiting the garden and seeing Sam and my other friends there is like meditation and refreshment for me." Volunteer Elena Siun from Russia has been with Kaipātiki for almost two years. She says " I love learning by doing and I'm gaining so many new skills. Sam is super friendly and willing to go the extra mile to answer our questions and provide support."
The volunteering philosophy for the Kaipātiki Project reflects Sam Tu'itahi's philosophy on life:
'Respect for all people, Care for all people'
"It's all about manaakitanga," he says "hospitality, kindness and support."
It's clearly working. Unlike many not for profit organisations Kaipātiki's volunteer numbers are growing and a more diverse group of people are experiencing the fulfilment of giving back.
The future looks bright for the volunteers of the Kaipātiki Project and Sam Tu'itahi will be right there for them with tea, coffee and biscuits, and a hearty welcome.