Impact Measures for Non Profits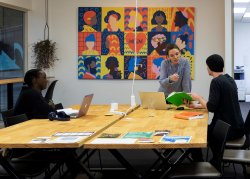 If we are not measuring impact, utilising relevant and well thought-through parameters, not only do we risk the possibility that we are wasting time, money and other resources; we also don't know if we are using our efforts to drive undesirable, detrimental and harmful behaviours and practices.
Only by measuring the things that matter most, can we know the true impact we are having, and adapt our practices as needed to meet the challenges of today
In this mini-short course [LoVE Online - July 7th 2022 - 10.30 - 11.30am] we will explore what impact measurement and management can look like for your organisation, and how you can make a start today on formulating the difference you seek to make in the world - in a relevant and measurable way. In this session we will cover definitions and frameworks for impact measurement, as well as practical applications of these. We will look at the impact management cycle, theory of change, and discuss how to identify relevant parameters to measure. Above all, we will ponder the question: Why would you measure impact? Not only that, we will have fun doing this!
Emma Sinclair has a diverse background in science, nutrition, food and social enterprise, and now holds the role alone of three directors at Impact Hub Waikato, where she specialises in community building, entrepreneurial support and impact measurement. Impact Hub Waikato is part of a global network of over 100 hubs, where the core principle is closing the gap between purpose and profit - for a fairer world for all. At the heart of Impact Hub's mahi are the 17 Sustainable Development Goals which recognise that ending poverty and other deprivations must go hand-in-hand with strategies that improve health and education, reduce inequality, and spur economic growth – all while tackling climate change and working to preserve our oceans and forests. As the need for impact measurement is growing, Emma has, alongside co-founders and directors Nanise Ginnen and Paul Kerssens, undertaken a social impact measurement accreditation with Huber Social, which they now utilise to serve the community of impact ventures across Aotearoa. An example of the work that we have done implementing this framework can be found here