Enabling the success of others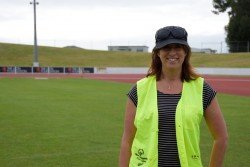 Megan from Sovereign at Special Olympics Athletics
I work in the Sovereign Customer department. I have volunteered widely outside of work for the local rugby club, Girl Guides and Salvation Army.
One of the positive aspects of volunteering is knowing that what you are doing makes a difference. Helping Special Olympics is very satisfying as you are able to see others achieve and exceed their goals. I have helped at an athletics day before so I was one of the first to volunteer this time around.
It's great to be able to use your skills from your day job in a completely different way. What I've learned is that every time I volunteer, I come out with something new. I love the teamwork and enjoy working together as part of a team. It's great to be enabling the success of others.
It is so good to work for an employer who releases you for the day to volunteer in the community. I have ended up building networks as we are a cross-departmental team so I have met staff from marketing and customer I would not normally have worked with.
See our Corporate Volunteering Opportunities for ways
your company can engage with the community.