Cyclone Gabrielle 2023 - Do you Need Help? Can you Help?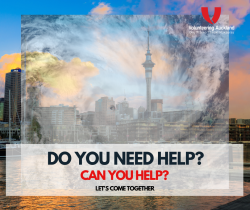 Information correct as at 1.30pm Wednesday 22 February 2023
When donating please consider actual needs. Sometimes its better to donate dollars so organisations can meet needs as they arise and are identified. Contact first where you can, or keep an eye on our social media posts for up to date needs, including volunteers.
HELP FOR GISBORNE
HELP FOR AUCKLAND REGION
Help for Gisborne
Gisborne Volunteer Centre
The Gisborne Volunteer Centre is accepting donations, which will be used to support the volunteers assisting through the local Volunteer Centre, and other identified needs as the volunteers help their communities. The centre is a member of Volunteering NZ.
Donations can be made directly to:
Gisborne Volunteer Centre Inc
Kiwibank Gisborne
38 9010 0052542 00
If you are in the Gisborne area and need help, or can offer help, the information you need is here
Kai, Clothing, Bedding
Auckland Region
Auckland City Mission
A flood response fund has been set up by the mission. Both Vodafone and Te Rourou, Vodafone Aotearoa Foundation will match donations up to $35,000 each. So, for every $10 donated, $30 will go to help those affected, up to $105,000.
Fair Food Charitable Trust
Accepting donations - perishable food, canned goods or dry goods. We accept food past its best before date.
2/624 Rosebank Road, Avondale. Open from 9am-4pm for drop ins.
If you have any enquiries regarding donations email info@fairfood.org.nz or call 022 593 4285
You could also donate here
Sikh Gurdwaras – Bulk supplies of rice, pasta and essentials available, and some meals (changes daily based on availability).
Locations: North Shore (128 Sunnybrae Rd, Hillcrest]; West (3034 Great North Road, New Lynn); South (Takanini Gurdwara, 70 Takanini School Rd, Takanini)
Opening hours: Noon-6pm daily
Contacts: North & West - CJ Rattwate (hello@esse.org.nz); South - Daljit Singh (021 803 512); All areas - Anna (022 187 5833) including out of hours urgent request
Donations needed - Food containers needed for cooked meals. If possible, people collecting meals should bring own containers.
Volunteers needed - Delivery drivers at all three locations, and communications person to support North/West - contact direct CJ Rattwate 020 410 15772 for information on volunteer roles.
North Auckland
Birkdale Beachhaven Community Project - Birkdale and Beach Haven Community Houses
Community food pantries - fresh and perishable food being accepted [Outdoor fridge available at Beach Haven only]
Birkdale - 134 Birkdale Rd, Birkdale
Beach Haven - Shepherds Park, 130 Beach Haven Rd, Beachhaven
If you need to replace bedding, clothing or furniture please email admin@birkdalebeachhaven.org.nz or call 09-483 9149
Help can also come in the form of a cuppa - if you need a break, pop in between M-F 9am - 3pm - the kettle's on!
Sunnynook Community Centre
148 Sycamore Drive, Sunnynook
Providing needs on a case by case basis
Donations needed - basic foods eg bread, milk, fruit and vegetables, toiletries etc. Countdown vouchers, or Donate money directly to ASB 12-3087-0116500-00 Ref: Flood
South Auckland
Brown Buttabean
Dave Letele and his team at BBM are helping out at the Emergency Assistance Centre on Domain Road in Mangere, and are regularly distributing food parcels around South Auckland. Check their Facebook page for the latest locations or donate here if you'd like to help out.
Tradies / Builders needed - check out this link to register your availablity to help
Needed: Bedding furniture, household wares - Drop off from Monday 13th Feb - email admin@thebbmprogram.com for details.
If you need help with food, dont be shy to reach out.
Kootuitui Trust [Papakura]
Kootuitui Trust [Papakura]
Supporting flood-displaced/impacted persons & households in Paerata and Karaka regions.
Need: Monetary donations for the purchase of new beds and essential items please visit our Givealittle page. We also need food items e.g. bread, milk, cereals, non-perishables; and nappies, etc would also be very welcome.
Contact Abi 021495642 or email abi@kootuitui.org.nz for drop off details
Manukau Urban Māori Authority food bank
31 Calthorp Close, Favona. Open Monday 9am-3pm.
Call 0800 686 232 for food parcels and 24/7 support
Accepting donations, particularly of mops, buckets, towels, cleaning products, clothing and bedding.
Donate money directly to 12-3076-0574645-00 Ref: Floods
Manurewa Marae – accepting kai donations
81 Finlayson Ave, Clendon Park, Auckland 2103
Waka of Caring – accepting and distributing blankets and kai
Dontation needed - Rice, Pasta, UHT Milk, Powered Milk, Hygiene products, Toiletries, etc. No need for meat or vegetables at this time.
PETROL VOUCHERS would also be hugely appreciated - as the team will be travelling to the Far North to take generators, blankets and kai to communities in need there.
Open Monday - Saturday 9am - 6pm
2/14 Mcannalley Street, Manurewa East
Contact through their facebook page
(Please don't leave donations outside if centre is unattended.)
East Auckland
Civil Defence Emergency Shelter - Colin Maiden Park, Glen Innes
An emergency shelter has been set up in the former Unisports Building at Colin Maiden Park, 73 Merton Rd, Glen Innes (Enter by gates 3 or 5 - behind cricket club). It's open 24 hours and provides food and water, a place to sleep and rest and support for people whose homes are not safe because of recent flooding.
For a full list of civil defence centres and shelters, and information support hubs (updated daily), please visit here
West Auckland
Care Waitākere – food bank
Donate directly to 12-3038-0343475-003
Hub West
Donations needed - non perishable food items cleaning items, toiletries, women's period products, nappies, airbeds, mattreses on wheels, water bottles, etc
Support available - food bags, clothing, blankets, bedding, toys, shoes, toiletries. You can come in for a shower [accessible], or a cuppa
27 and 29 Corban Avenue, Henderson [From Friday 3rd February - Civil Defence Hub - moving from St Leonards location]
Drop off or pick up or call 09 838 4820
Visionwest Community Trust – food and wraparound support services
For support: Phone the support line – 0800 990 026.
Or come to the Whānau Centre, 97 Glendale Road, Glen Eden, open weekdays 9am – 4pm.
If you need emergency food come to the Pātaka Kai, 97 Glendale Road, Glen Eden; Tuesday, Wednesday, Thursday or Friday; between Noon and 2pm. (Food donations can also be dropped off during opening hours.)
If you cannot travel, email kai@visionwest.org.nz with your name and contact number.
For other support, email whanaucentre@visionwest.org.nz
Central Auckland
Blessings – accepting volunteers to assist rough sleepers in the CBD.
Volunteers needed: Sunday 12th February - 3-5pm Kai prep; Food Service 5-7pm. Register on Roster here. If the roster is full - please DM them on Instagram (link above)
Ethnic Women's Trust [NZ]
Donations please for their foodbank - their venue cannot store goods - 01-0183-0191099-01 [Ref:Floods]
Laptops [newish] and PCs [reconditioned] for their computer classes
Space for their classes and workshops [Mt Roskill / Albert / Eden areas]
Contact email - admin@nzethnicwomen.org
Kindness Collective – pantry staples and community networks.
5/4 Rocklands Avenue, Mount Eden. Open between 8am-4pm, Monday to Thursday, for drop-offs and drop-ins.
Accepting donations of Food (basics eg bread, milk, cereals, and non perishables), Toiletries, Nappies / Wipes, excellent condition Blankets / Sleeping bags, New Pillows, Kids' clothing (only new/excellent condition)
Please no adult clothing, shoes, towels, linen, toys or books.
Lifewise Merge Cafe – kai
Donations needed - Best Before date food, meat, canned goods, fruit, vegetables - anything that can be made into meals
You can support their work by going to the cafe and "paying it forward" for your meals
453 Karangahape Road, 7am-2pm Monday-Friday
Donate here.
If you have a coat, or weatherproof gear, please drop it off to the Cafe.
Onehunga Community Centre
83 Church St, Onehunga. Call 09-525 0174
available - Bedding, Food, dry space to work from, or store equipment; helping people with the Civil Defence Flood Payment application
Support available 9am - 5pm, Monday to Friday
Roskill Youth Zone [The ARK Collective]
740 Sandringham Rd, Sandringham - Monday to Saturday,10am to 6pm
Building behind Wesley Community Centre
Supplying bedding, mattresses, clothing, Kids toys / games, nappies, crockery, whiteware
Volunteers needed - complete this form, meeting point 24 Potter Ave, Wesley
Wesley Emergency Hub - The ARK Collective
24 Potter Avenue, Mount Roskill, Auckland 1041 - Monday to Saturday, 10am to 6pm
New locations set up at:
Puketāpapa Roskill Rugby Clubrooms, 58 Frost Rd, Mt Roskill
CTK School Hall, 288 Richardson Rd, Mt Roskill
All are welcome!
Looking for donations:
– Non perishable food
– deodorant, toothbrushes, toothpaste, bodywash, etc.
– Pillows, blankets
– Cleaning supplies; household disinfectant (in particular need of these)
– gloves
You can now request support or volunteer faster by filling out our new sign up form.
Please use this form if:
You are requesting, support, food, household items for yourself, family, or a neighbour.
You would like to volunteer, donate, or offer a service to the flood relief efforts.
Or donate to the Acts of Roskill Kindness bank account: Global Hope Missions 38-9020-0719144-01 Ref: Flood
Clean Up
Orange Sky – laundry and showers
City-wide, mobile service
Needing volunteers - register here
To request their service, contact Helen 021 026 77298 or info@orangesky.org.nz
Donate here.
Student Volunteer Army – Clean up assistance (non-urgent)
City-wide
To request help, fill out this form
To volunteer, fill out this form
Babies and Children
Give a Kid a Blanket
Accepting donations of blankets, duvet covers [only new or preloved in excellent condition]
Accepting donations of all baby items, nappies, socks, pillows [new]
Drop donations off at Unit 6/91 Central Park Drive, Henderson, Wednesday, Thursday, Friday, 10am-4pm
Donate here
Nurturing Families – nappies and other family support.
Donate directly to 38-9022-0247806-00
Animals
HUHA (Helping You Help Animals) – Assisting those with animal needs
"If you or someone you know needs any help with animals, call 027 4416474, 022 249 1020 0800 00 83 33." Or text HUHA to 4463 to instantly donate $3.
SPCA
The SPCA centres in Auckland are currently closed to the public and Inspectors are only responding to urgent welfare concerns. If you need their help, the power outages are interfering the phone lines so send them an email info@spca.co.nz. For more information on caring for animals in emergencies, they have this handy PDF.
Auckland Emergency Management
If you need to evacuate your home and cannot stay with friends or whānau, you can go to one of our Civil Defence Centres in the west, north and south. Please try to find somewhere safe for your pets and animals to stay, especially dogs, before bringing them to a Civil Defence Centre.
If you can't find another option you can bring pets to Civil Defence Centres.
? Dogs must be on a leash and, if possible, muzzled.
?You may also be asked to keep your dog in your car.
? Please bring cats in a cage if possible.
? If your animal was injured as a result of the flooding, please have it checked out by your veterinarian.
? Bring with you any essential items you may need, e.g. pet medication or food.
Please contact Auckland Emergency Management on 0800 22 22 00 for if you are unsure and need assistance.
Accommodation
Auckland Emergency Management has opened Civil Defence Centres to assist those that have been displaced or need assistance in any way. Call 0800 22 22 00 for more information.
What to bring: items for children and babies like formula, nappies and toys; your essential medications, photo identification, warm clothing
Pets: Dogs must be on a lead and may be asked to stay in your car; Cats must be in a carrier
Civil Defence Centres [CDCs]
Providing stretcher beds, blankets, food, water, welfare support agencies, psychosocial support
Shelters [by Local Board areas] see same link above for CDCs
Providing blankets, tea & coffee, ciouncil staff to help
Check which ones are accessible for wheelchairs
Community Support Hubs
South - Moana-Nui-a-Kiwa Pool and Leisure Centre, 66R Mascot Ave, Mangere [24 hours]
West - New Lynn Community Centre, 45 Totara Ave, New Lynn [9am - 5pm]
North - Birkenhead Leisure Centre, 46 Mahara Ave, Birkenhead [9am - 5pm]
East - Manu Tukutuku, 32 Riverton Drive, Randwick Park [9am - 5pm]
Community-Led Centres [by area] see same link above for CDCs
Ruapōtaka Marae – accommodation support, food parcels, clothing
106 Line Road, Glen Innes. Open Monday - Saturday 9am-5pm [urgent needs Sunday]
Call 0800 276 8252 to donate or request help.
Cook Islands Development Agency NZ
For people who are needing assistance and speak fluent Kuki Airani, get in touch with Anthony Tou on 027 303 1832 or Sean Apai on 027 310 3675 and fill out this form.
Welfare Assistance
For welfare assistance including money
Phone Work and Income: 0800 400 100
Support and assistance may be available if you've been affected by flooding in the Auckland region. This includes costs for emergency food and bedding, emergency accommodation costs, loss of income and costs associated with housing evacuees.
For online help go to Work and Income Flood Support
Applications may also be made to the Auckland Council Emergency Relief Fund, go to Auckland Council Relief Fund.