Connecting the Dots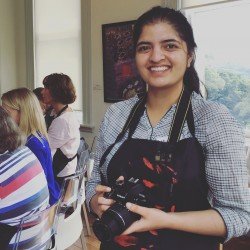 Mridula volunteers with Connect the Dots
Why did you decide to volunteer?
The reason I decided to volunteer is because I am always looking for reasons for give back to the community. I like to challenge myself and involve myself in different opportunities and engage with different communities from all walks of life. Volunteering is also a great way to gain experience, which looks great on your CV.
Why did you choose this particular organisation?
Connect the Dots is an initiative that connects and engages older people and those living with dementia with art and cultural opportunities. As a psychology and public health major I believe what Selina and Andrea have created is amazing because it provides an opportunity for elderly people with or without dementia to develop protective factors to slow down the progression of this condition. Also volunteering at Connect the Dots allows me to express my artistic side.
What is it you really enjoy about your role and volunteering?
Volunteering at connect the dots is great because I really enjoy helping out with the tours and getting to meet new people. Selina and Andrea are also very welcoming and when I am there it doesn't feel like I am there to work. Also being able to immerse myself in the art and culture Auckland has to offer is an additional bonus.
Find out more about volunteering with Connect the Dots