An Organic Oasis in the City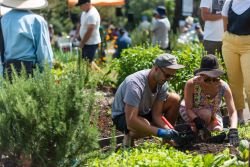 Agriculture probably isn't the first word that comes to mind when one thinks of Auckland's inner-city suburbs. However, just under three kilometres away from the city centre, tucked away on council-owned land in Ponsonby, is Kelmarna Gardens, an organic community farm made possible by volunteers.
The farm boasts a range of diverse farming operations, including vegetable gardens, a food forest, paddocks for livestock, beehives, and composting. From this array of agricultural activities comes ripe opportunity for volunteers. Sarah Moss-Baker, volunteer coordinator at Kelmarna Gardens, believes it is this variety that makes volunteering here especially attractive to students.
On Thursdays and Saturdays, there are volunteer days that do not require prior knowledge. "It can be a very social and therapeutic break from study and a chance to connect back with the land," says Sarah.
Another avenue for volunteering that Sarah recommends for students is education. Kelmarna Gardens welcomes several school and pre-school groups for regular and one-time visits, where they involve tamariki in learning about the natural world, food and where it comes from, and sustainability.
"Our education volunteers have often been university students involved in sustainability or involved in education who get the opportunity to practice their skills in a nature-based learning setting."
Sarah says that Kelmarna Gardens' central Auckland location provides a unique opportunity to educate urban Aucklanders about rural life.
"We're right in the centre of Ponsonby and Grey Lynn, and we feel so lucky that this kind of space for working the land and for sheep and chickens to roam freely and the paddocks exist. We feel really lucky that there's a bit of an oasis for Aucklanders to come into and, in some ways, take advantage of as a therapeutic space and as a learning and growing space."
If you'd like to get involved in volunteering opportunities available at Kelmarna Gardens, check out here
Written by James Ball, AUT, Journalism Student