A helping hand in an emergency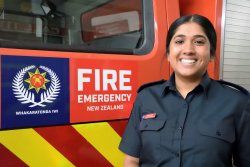 Meet Aileen Nand, Auckland Operational Support Unit.
Aileen Nand volunteers with Auckland Operational Support Unit, perhaps better known as the Auckland Volunteer Fire Brigade. The volunteer firefighters provide support for the regular brigade.
Aileen says "You can get a call out on our pagers at any time and get tasked to provide assistance for all sorts of things, -a vehicle accident, traffic control, provide lighting for some emergency, provide transport, first aid, as well as assist at fires." In a big fire the volunteering team might also provide refreshments for the regular firefighters, and there's a canteen appliance that can cater for 100.
Aileen says "It puts a different perspective on life. You might be working at incidences such as a motorway accident, -on the news you don't see the reality, you don't see the emotions that are right in front of your face, and you don't feel the adrenaline."
Aileen enjoys the regular training sessions and she's learnt many useful life skills. Working at an emergency requires good communication and teamwork. She's learnt first aid and now has other qualifications like knowing how to manage traffic in an accident. She says her main reason for her support for the firefighters is the interest it adds to life -and the personal satisfaction that she's helping the community.
She won't go as far as saying what she does changes people's lives but she does think she has encouraged others to get involved, particularly children. She's been to schools to explain the importance of her role, discuss what she does, and this certainly encourages community spirit.
Should people get involved in volunteering? Aileen decisively says yes. '"There's a feel good factor and satisfaction I feel inside which I want to share with everyone else. It's great to be around people who hail from all walks of life and I now have an extended and wide range of friends."