Anna Connell Bio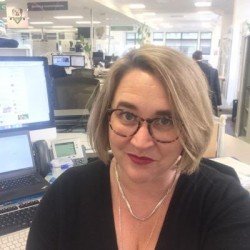 Anna Connell heads up social media and content marketing at BNZ, engaging people on YouTube, Twitter, Facebook, Instagram, LinkedIn, Google+, Vine, and the bank's own online community.
You won't catch her buying likes or pushing worthless vanity metrics. She's committed to looking for ways to make her bank genuinely interesting, human, and worth spending time with in social media against a challenging back-drop of customer demand, heavy regulation and varying degrees of understanding of what social media even is. Skilled in the Art of Looking Sideways, she has a background working in not-for-proift, specially as the Development Manager for Auckland Theatre Company, so creativity on the smell of an oily rag is not uncharted territory to her.
Colleagues around BNZ have described Anna as the Social Gandalf, the Social Geldoff, and less obtusely, Chief Social Geezer.
You can find her on Twitter @annagconnell https://twitter.com/AnnaGConnell or LinkedIn https://www.linkedin.com/in/annaconnell